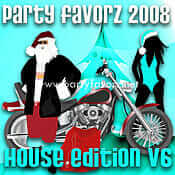 Just wanted to remind everyone that today is World AIDS Day.  Though I don't need a special day to remember those people I've lost to this disease, it's important if only to keep it on the minds of nations and to remember that we still have a long way to go.  Recent reports from the CDC show that the number of new infections in the gay community has substantially risen over the course of the past several years.  Perhaps it's because there is less of a stigma associated with the disease, or maybe it's the lack of education and sense of invincibility among younger gay people.  Either way, there's still no cure and no excuse for reckless behavior.  Protect yourself and protect the ones you love, WRAP IT UP!
I want to dedicate this mix to a dear lost friend Orlando.  I'm sorry, I didn't find out until going home for the first time in five years only to find out you passed three years earlier.  Thanks to all of my "so-called" friends for letting me know ("lame" is a word that comes to mind and one of many reasons I'll never return) and dear ole mom (who didn't want to bother me).  Orlando, you were loved and you WILL be remembered.  Peace.
As promised, I got the next House Edition up and ready to go.  I have to say that I'm totally feeling this mix and the music within.  It starts off with the fabulous disco renderings of DJ Meme and then proceeds to take you on a journey of deep, funky, and soulful house.  This mix definitely sets the mood for these cold, dark days.  It uplifts the spirit and feels you with joy.  Frankly, I think this is just what the doctor ordered to cure the holiday blues.  Don't let the world bring you down because, in the end, it's all about HOUSE!  Enjoy!
Album : House Edition v6
Genre : House, Deep, Disco, Funky, Soulful
Year : 2008
Total Time : 2:52:52.00
Track : 1
Title : Chanson Du Soleil (Sun Is Coming Out) (DJ Meme Main Mix)
Artist : DJ Meme feat. Gavin Bradley
Track : 2
Title : Your Beat Sounds Like (Disco Lips Remix)
Artist : Ron Gelfer feat. Tiger Lily
Track : 3
Title : That Man Of Mine (Keith Haarmeyer Discohouse Mix)
Artist : Cindy Mizelle
Track : 4
Title : Glad I Found You (Scott Wozniak Remix)
Artist : DJ Gomi feat. Louie Balo & Yasmeen
Track : 5
Title : Natural (Original Vocal Mix)
Artist : Sebastian Davidson & Nick Orisun feat. Judy Albanese
Track : 6
Title : Who Can I Run To (Bams Main Vocal)
Artist : Dawn Tallman
Track : 7
Title : One Day (Sam-Project Mix)
Artist : Samuele Sartini
Track : 8
Title : Burning Up (Davidson Ospina Remix)
Artist : Angie Brown & Clemens Rumpf
Track : 9
Title : Get Down Again (Raul Rincon Vocal Mix)
Artist : Malibu Sneakers
Track : 10
Title : No Other Man (Soul Conspiracy's So 90's Vocal Mix)
Artist : Steven Stone feat. Angie Brown
Track : 11
Title : You Got Me Burning Up! (Triple D Mix)
Artist : Cevin Fisher feat. Loleatta Holloway
Track : 12
Title : Push The Fader (Earnshaw & Jones Mix)
Artist : Beatz Kinetic
Track : 13
Title : Why (Original Club Mix )
Artist : Sam-Project
Track : 14
Title : Survivin' (Joey Negro Funkdown Mix)
Artist : The Sunburst Band feat. Leroy Burgess
Track : 15
Title : President's House (Hott 22 Vocal Remix)
Artist : Roland Clarke pres. Urban Soul
Track : 16
Title : Go Now (Triple Dee Club Mix)
Artist : Simply Red
Track : 17
Title : Heal My Heart (Quentin Harris Black Heart Mix)
Artist : Kerri Chandler feat. Treasa Diva Fennie
Track : 18
Title : Summer Voyage (Cover Me) (DJ Rudd Full Vocal Edit)
Artist : Craft B. feat. Nica Brooke
Track : 19
Title : Time Is Right (Soulstar Syndicate Remix)
Artist : Candy Williams & Whiteside
Track : 20
Title : A New Society (Original Vocal)
Artist : Starchaser
Track : 21
Title : My All (David Harness Thread Mix)
Artist : DJ Dealer feat. Inaya Day
Track : 22
Title : Life (Reel Soul Vocal Mix)
Artist : Lee Wilson
Track : 23
Title : The Rest (Original Mix)
Artist : Victor Soriano
Track : 24
Title : Release Your Mind 2008 (Richard Earnshaw Remix)
Artist : Syke 'n' Sugarstarr
Track : 25
Title : Beautify Me (Moscomusic's Beautiful Mix)
Artist : Eternal Sunshine
Track : 26
Title : Get Up (Mark Alston & Vanjee Remix)
Artist : Mary Mary
Track : 27
Title : C'mon Y'All (Dephunk Afterhours Mix)
Artist : Salme Dahlstrom
Track : 28
Title : Time & Time Again (Tomo Remix)
Artist : Sublevel feat. Tracy Hamlin
(Visited 1 times, 1 visits today)
Podcast: Download
Listen on: Apple Podcasts | Google Podcasts | Amazon Music | Android | iHeartRadio | Deezer | Donate