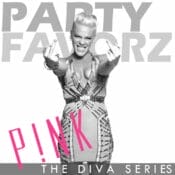 As I promised yesterday, I've got another updated set featuring a past inductee into the Diva Hall of Fame, who compliments yesterday's re-induction of Kelly Clarkson. I am talking about none other than the fabulous Pink!
Their paths were similar in that they were both pigeonholed by their labels into the current R&B, hip-hop style of the moment with their first albums. While both were successful, their debut albums did not necessarily represent their style. It wasn't until their second album that they transitioned into a more pop-rock style that they exploded. Both are fantastic vocalists and both can render heart-wrenching songs that swell our broken hearts.
While Kelly always maintained a persona wrapped around the perky, sweet innocent girl with a rock edge, Pink was the more in-your-face, not politically correct bad girl of pop who didn't give a fuck what others thought about her.
Of course, much of this was a facade as well all know the bad girl from Pennsylvania had kind of leather and lace persona who wore her heart on her sleeve. Pink went through some transitions on her first three albums before really solidifying her sound. It was all uphill from there.
Known for her amazing acrobatic performances in concert, a testament to her amazing stamina, she cannot only captivate us with her voice and music but with her artistic performances that continue to defy. No one (not even Madonna) comes close.
Pink is currently on tour but has been temporarily sidelined due to a gastric virus. We hope this is not serious and that she'll be back up and running in no time.
In the meantime, Pink 2018 builds on the original set released in 2013 with several updated versions of her earlier work and newer material. It is my greatest pleasure to once again reinduct Pink into the Diva Hall of Fame. ENJOY!
Album : Pink 2018 | The Diva Series
Artists : Pink
Genre : Dance, Club
Length : 02:12:43
Whatever You Want (FTampa Remix)
Get The Party Started 2014 (Division 4 Club Mix)
You Make Me Sick (Sydney Vine Remix)
Try (Cosmic Dawn Remix)
Who Knew (Bimbo Jones Club Mix)
So What (Bimbo Jones Remix)
Sober (Bimbo Jones Club Mix)
Please Don't Leave Me (Digital Dog Club Mix)
There You Go (Hani Mix Show Edit)
True Love (Craig Welsh Pop Bootleg Mix)
What About Us (Barry Harris Club Mix)
Don't Let Me Get Me (Ernie Lake Club Mix)
Leave Me Alone (I'm Lonely) (Digital Dog Remix)
Most Girls (Division 4 Radio Edit)
I Am Here (Larry Peace Mix)
Just Like A Pill (Stacy Mier Ulti-Remix)
Secrets (Until Dawn Remix)
Stupid Girls (Hani Stupid Mix)
Slut Like You (Division 4 Club Mix)
U + Ur Hand (Bimbo Jones Mix)
Funhouse (Digital Dog Remix)
Beautiful Trauma (StoneBridge & Damien Hall Extended Mix)
Blow Me (One Last Kiss) (Cosmic Dawn Remix)
Raise Your Glass (Jump Smokers Extended Mix)
Fuckin' Perfect (Liam Keegan Club Mix)
Just Like Fire (Amice Remix)
(Visited 1 times, 1 visits today)
Podcast: Download
Listen on: Apple Podcasts | Google Podcasts | Amazon Music | Android | iHeartRadio | Deezer | Donate