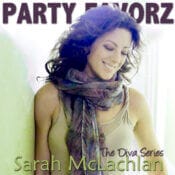 From emotionally stirring ballads to ethereal, atmospheric sounds, Sarah McLachlan's body of work is as diverse as it is hauntingly beautiful. Yet, few would have suspected that this Canadian singer-songwriter, often associated with heart-wrenching melodies and poetic lyricism, would become an unwitting heroine in the trance music scene. It all began when Sarah McLachlan collaborated with Delerium on the track "Silence," a partnership that took her music on an unforeseen yet thrilling journey.
From Folk to Trance: The Delerium Catalyst
While McLachlan had already been establishing herself as a prominent folk and pop artist, her collaboration with Delerium on "Silence" in 1999 was a game-changer. Initially, the song was a modest hit, but then came the DJ Tiësto remix, and suddenly "Silence" was everywhere—thumping through speakers in clubs, pumping up adrenaline levels at raves, and conquering global music charts. This Tiesto Mix not only became a defining track for the trance genre but also catalyzed McLachlan's unexpected crossover into dance music.
The Remix Revolution
After the immense success of "Silence," Sarah McLachlan's tracks started to be seen through a different lens— as potential anthems for the trance and dance music world. Notably, her song "I Love You" caught the attention of pioneering producer BT, who transformed it into a hypnotic, layered experience that resonated with the dance community.
Similarly, the "Sweet Surrender" DJ Tiësto Mix metamorphosed the original's dreamy, laid-back tones into a driving, pulse-quickening sensation.
Embracing the Unexpected
The beauty of McLachlan's music is its flexibility. Her poetic narratives and haunting melodies seamlessly lend themselves to transformative remixes, like Gabriel & Dresden's Anti-Gravity Mix of "Fallen," or the pulsating 2008 remix of "Silence" by Niels van Gogh vs. Thomas Gold. These versions felt like natural extensions of her art, extending her reach to an audience that may not have discovered her otherwise.
The Synthesis of Two Worlds
It's remarkable how McLachlan's soft, emotive vocals and poignant lyrics have found a home among the ecstatic beats and rapid tempos of trance music. In fact, her songs that got remixed by top-tier trance DJs, like "Fallen" and "Sweet Surrender," resonate profoundly within the genre because they encapsulate the emotional intensity that trance aims to deliver.
The Legacy Continues
In the world of trance and dance music, Sarah McLachlan's impact remains profound. Her initial, accidental foray with "Silence" has not only given us some of the most cherished trance classics but also broadened her musical legacy in a way that nobody could have predicted. In an industry often defined by genres and labels, Sarah McLachlan is a testament to the power of musical alchemy and the unforeseen adventures it can bring.
Until the next time…ENJOY!
Album : Sarah McLachlan | The Diva Series




Genre : Progressive, Trance




Year : 2008




Total Time : 1:11:38.00
1. I Love You (BT Mix)
2. Hold On (BT Mix)
3. Sweet Surrender (DJ Tiesto Mix)
4. Fallen (Gabriel & Dresden Anti-Gravity Mix)
5. Stupid (Hyper Remix)
6. Plenty (Fade Mix)
7. World On Fire (Junkie XL Club MixGM Edit)
8. Silence 2008 (Niels van Gogh vs. Thomas Gold Remix)
9. Possession (Rabbit In The Moon Mix)
10. Fear (Hybrids Super Collider Mix)
(Visited 1 times, 1 visits today)
Podcast: Download
Listen on: Apple Podcasts | Google Podcasts | Amazon Music | Android | iHeartRadio | Deezer | RSS | Leave a review