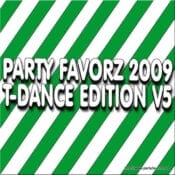 I know I promised this for Tuesday, but I have been a VBB (Very Busy Boy) this week.  Half the time, I didn't know if I was coming or going.  Despite that, I've already managed to knock out the final BPM Edition 2009 of the year and will start on the Holiday Edition 2009 tomorrow.  Rest assured, I'm not sitting on my tush doing anything.  You folks can expect to be seeing a lot of posts between now and Christmas Eve.  So don't think I'm spamming you, I'm just running a little bit behind and will be playing catch-up this next week.
In the meantime, I'm serving up the long overdue "Cool Down" mix of the final 2009 T-Dance Edition.  There's a heaping amount of soul and gospel in this set.  To keep it interesting, I tried my best to be very discerning about what went into this final mix.  I've been pretty much listening to this and Adam Lambert in my car for the last week and a half while driving around town trying to get things done.  I can assure you, I wasn't Christmas shopping either.  Santa hasn't visited the Party Favorz household in over three years.  My guess is that Rick and I have either been naughty or it's because we're no longer listed in the phone book LOL.
I love the soothing tempo and soulful vocals, which did a fantastic job of calming me while in heavy traffic in and around town.  So much so, I kept my birdie to myself, even in situations where it was warranted to let it loose and fly high and proud.  Instead, I would just say "Merry Christmas" to the offending idiot on the cell phone, who would speed up to cut in front of me and then proceed to go 40 mph or that jack@$$ that damn near ran into me in the Starbucks parking lot, even though I had the right of way.  Ahh yes, tis the season to be kind to my fellow man.
Whether it's the warm summer vibes of Bah Samba's "Live in the Summer," the uplifting "Sunshine (In This Heart of Mine)" by Kehoe & Harmony, the heart-tugging "Don't Tell Me (That You're Sorry)" by Ethan White & Marie Tweek or the absolutely gorgeous "Home" by New York's fabulously gifted Heather Johnson, there is a little something here to fill your mind, body, and soul.  And, if Soulful house isn't your cup of tea, try it out anyway.  It might very well help you keep that birdie from taking flight while fighting traffic during this hectic time of the year.  Enjoy!
Album : T-Dance Edition 2009 v5 




Genre : Funky, House, Soulful, NuDisco




Year : 2009




Total Time : 1:36:45:00
Track : 1
Title : Star (RP's Club Mix with Intro)
Artist : Reel People feat. Tony Momrelle
Track : 2
Title : Let Ur Spirit Go (Souldynamic Remix)
Artist : Born to Funk
Track : 3
Title : Little W. 12th St. (Ralf GUM Main Mix)
Artist : Ralf GUM & Monique Bingham
Track : 4
Title : For The Love Of You (Doruk Ozlen Main Vocal Mix)
Artist : D'Moov feat. Nicole Henry
Track : 5
Title : Live In The Summer (Andy Ward Sunshine Mix)
Artist : Bah Samba feat. Tasita D'Mour
Track : 6
Title : Funny Things (Random Soul Mix)
Artist : Jay West feat. Ingrid Hakanson
Track : 7
Title : Sunshine (In This Heart Of Mine)
Artist : Kehoe & Harmony feat. Sulene Flemming
Track : 8
Title : Get Up (Dub)
Artist : Steven Stone feat. Tasha
Track : 9
Title : Don't Tell Me (That You're Sorry) (Jask's Classic Violin Seduction Mix)
Artist : Ethan White & Marie Tweek
Track : 10
Title : It's the Spirit (DSF & DJ Dino Main Mix)
Artist : DJ Romain & Darryl D Bonneau
Track : 11
Title : The Ones You Love (Original Mix)
Artist : Frankie Knuckles & The Shapeshifters
Track : 12
Title : Your Kiss (Ralf Gum Vocal Mix)
Artist : Bucie
Track : 13
Title : Gone (The Wizard Brian Coxx Original Mix)
Artist : Yasmeen
Track : 14
Title : Back In The Day (Ralf GUM Vocal)
Artist : Dutchican Soul feat. Andrea Love
Track : 15
Title : All About Love (Knee Deep Vocal Mix)
Artist : Knee Deep feat. Cathy Batistessa
Track : 16
Title : Home (Tomo Inoue 12" Vocal)
Artist : Heather Johnson
Track : 17
Title : Stand Up For Love (Original Jazz Mix)
Artist : Lucien Foort feat. I-Fan
Track : 18
Title : It's Holiday Time (Original)
Artist : Jihad Muhammad
(Visited 1 times, 1 visits today)
Podcast: Download
Listen on: Apple Podcasts | Google Podcasts | Amazon Music | Android | iHeartRadio | Deezer | Subscribe to Podcast