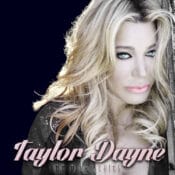 With the release of her first single Tell It To My Heart in 1987, Taylor Dayne was propelled into Pop-Diva-Icon status.  The Ric Wake produced track, was an instant worldwide smash at radio and on the dance charts, which paved the way for three more Top 10 hits Prove Your Love, I'll Always Love You, and Don't Rush Me from her self-titled multi-platinum debut album.
Some may remember her debut album having two different album covers.  One featured Taylor with big hair and extensions (typical of the late 80s and the second cover, which came out later in 1988 sported a softer look without the big hair.  Wikipedia states that her new-found success at adult contemporary radio for her ballad I'll Always Love You was the reason for the switch-up in album covers around the time her fourth single Don't Rush Me was released.
If I remember correctly Taylor was nominated for two Grammy's; one for best pop vocal performance (Tell It to My Heart) and the other for best R&B vocal performance (I'll Always Love You).  The rumor at the time was that after losing both categories, Taylor went into D-I-V-A mode backstage and ripped out her extensions.  Upset that she had not won either category and not happy with the image Arista (her label) had created for her, this was the real reason for the second album cover.  This may or may not be true, but I'm inclined to believe the latter since it fits in nicely with our perception of a TRUE DIVA.  After all, this wouldn't be the first time Arista records pigeon-holed one of their artists into an image that didn't reflect their artistry (see P!nk).
By 1990, Taylor shed the perm and released her next album Can't Fight Fate.  That album took her sound in a more pop-rock direction and served up two Top 10 singles With Every Beat of My Heart and I'll Be Your Shelter plus the number one hit Love Will Lead You Back (the latter two penned by Diane Warren).
Taylor's third album Soul Dancing, returned her to her dance roots with additional production from Shep Pettibone.  Despite a strong presence and muscular vocals on the remake of the Barry White classic Can't Get Enough of Your Love (the album's lead single) the album failed to perform well and put her at odds with Arista head, Clive Davis.  Once again, rumors prevailed that he did not want the song to be the first single because it did not reflect what was going on at radio at the time.  In addition, another one of Clive's divas (Lisa Stansfield) was releasing her third studio album and leading off with another Barry White cover Never, Never Gone Give You Up, which also failed to chart well.  Lisa ended up losing her US distribution on Arista and Taylor ended up with a greatest hits album after and was cut from the roster.
Taylor has since gone on to put out independent releases and has reached the top of the Billboard Club charts multiple times (Naked Without You, Planet Love) and remains one of the most highly regarded vocalists of her generation and is adored by her loyal fans.
Ladies and gentlemen, please give a standing ovation for our newest induction into the Diva Hall of Fame, Miss Taylor Dayne!
Album : The Diva Series starring Taylor Dayne




Genre : Diva, EDM, Dance




Year : 2015




Total Time : 01:44:59
Say A Prayer (Vission Lorimer Remix)
Beautiful (Scotty K's Vocal Klub Mix)
Facing A Miracle (LA Rush Club Mix)
Floor On Fire (The Thin Red Men Extended Mix)
How Many (The Larry K Classic Club Mix)
I'm Not Featuring You (Manny Lehman Big Room)
Naked Without You (TP2K Mixshow Mix)
Whatever You Want (Soul Solution Vocal Anthem)
Up All Night (Untitled Mix 1)
I'll Wait (7 Minutes Of Silk)
Can't Get Enough Of Your Love (C+C Extended Club Remix)
I'll Wait (E-Smooth Anthem Vocal Mix)
Prove Your Love (House Mix)
With Every Beat Of My Heart (Make It Rock Remix)
Don't Rush Me (Continental Clubhouse Mix)
Tell It To My Heart (T. Tommy & Pepo WB Private Mix)
Planet Love (Original Vocal Mix)
I'll Be Your Shelter (Groove Mix)
(Visited 1 times, 1 visits today)
Podcast: Download
Listen on: Apple Podcasts | Google Podcasts | Amazon Music | Android | iHeartRadio | Deezer | Donate