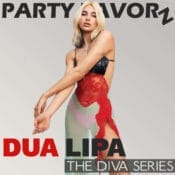 Party Favorz is closing out this section of the Young Divas with quite possibly the most gifted and entertaining artists to blast onto the pop scene since Rihanna. That woman is the one and only Dua Lipa.
Dua Lipa is an English model turned singer and songwriter who signed with Warner Music Group in 2015 and released her self-titled debut album in 2017.
Her debut album featured the beautiful "Be The One," (a personal favorite), "IDGAF," and the worldwide smash "New Rules." Shortly after she paired with Calvin Harris for the massive "One Kiss" and Mark Ronson & Diplo a.k.a. Silk City for "Electricity."
FUTURE NOSTALGIA
With a whirlwind of attention surrounding this new artist — Lipa dropped her critically acclaimed follow-up "Future Nostalgia" in March 2020. That album showcased a new direction by pulling from past musical influences from the 70s, 80s, and 90s and was the album that everyone but me didn't know they needed until now.
While Disco, 80s Dance, and 90s House music have been making inroads for a while now — it was going to take a major artist to propel it back into worldwide conciseness. It's the carefree attitude that allows us to forget all about our miserable lives at a time of great uncertainty and Lipa has tapped into that. Whether intended or not — the timing of "Future Nostalgia" couldn't have been more perfect.
There is a crazy-cool vibe about this woman that frankly no one can touch. She has an amazing low register sultry voice and an easy-going personality with a serious work ethic. Folks, we are looking at the next global superstar who undoubtedly will be at the upper echelons of stardom sooner than not.
CLUB FUTURE NOSTALGIA: THE REMIX ALBUM
This Friday the 14th Dua Lipa will be dropping the lead single from her upcoming remix album "Club Future Nostalgia: The Remix Album" "Levitating" with "The Blessed Madonna" remix featuring Madonna and Missy Elliot.
It's also been announced that Mark Ronson will produce a remix of "Physical" with Gwen Stefani.
The album — which is expected to drop on August 21st — ups the ante for club music and is "an eclectic and euphoric mix of the past and present, it's a celebration of musical worlds coming together, with 90's house blending seamlessly with 2020's finest pop and remixers, a splash of 80's soul and a few noughties musical gems added to the blend." Party Favorz is excited about this new release as it will also feature previously unreleased tracks (hint: there's a rumor that she finished work on a new collab with Miley Cyrus but it's uncertain as to whether that song will make the final cut or not.)
GLOBAL SUPERSTAR IN THE MAKING
Party Favorz predictions have been dead-on so far and we're looking at the next dance-pop superstar diva. This tribute set is meant to focus on the club remixes of her most popular tracks and WILL NOT be updated with anything from her upcoming release. That album will stand on its own.
It's with our utmost admiration and devotion to the fabulous Dua Lipa that Party Favorz inducts this junior diva into the Diva Hall of Fame. ENJOY!
Album : Dua Lipa | The Diva Series
Genre : Dance-Club, House, EDM
Year : 2020
Total Time : 01:25:28
1. One Kiss (Roberto Rios & Dan Sparks Club Mix) [with Calvin Harris]
2. Electricity (Charlie Lane & Mark Jay Remix) [with Mark Ronson & Diplo aka Silk City]
3. No Lie (Charlie Lane Discosid & POV Remix) [with Sean Paul]
4. Levitating (HENK Remix)
5. Physical (Division 4 & Matt Consola Remix)
6. Lost In Your Light (MK Remix) [with Miguel]
7. Don't Start Now (Purple Disco Machine Remix)
8. Break My Heart (Division 4 & Matt Consola Club Mix)
9. IDGAF (Country Club Martini Crew Remix)
10. New Rules (DJ Linuxis Remix)
11. Future Nostalgia (David Michael Remix)
12. Blow Your Mind (Mwah) (Night Moves Remix)
13. Swan Song (Country Club Martini Crew Remix)
14. Boys Will Be Boys (Ray Isaac Club Mix)
15. Be The One (Miro Remix)
16. Scared To Be Lonely (PRIDE Remix) [with Martin Garrix]
17. Hotter Than Hell (Jack Wins Remix)
18. Hallucinate (Tensnake Remix)
19. Love Again (Stan O Mashup) [vs. White Town]
20. Thinking 'Bout You (DECCO Remix)
(Visited 1 times, 1 visits today)
Podcast: Download
Listen on: Apple Podcasts | Google Podcasts | Amazon Music | Android | iHeartRadio | Deezer | Donate