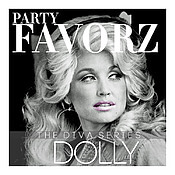 Party Favorz has covered every major DIVA recording artist that has topped Billboards Dance Club Charts over the past 30 years, the majority of which are included in its Greatest of All Time Top Dance Club Artists chart where Madonna reigns supreme.
I've also completed tributes to other artists whose music wasn't necessarily intended for the dance floor but was remixed by devoted fans because of their affection and stature as gay icons and their alliance with our community.
One such artist is the amazing Dolly Parton. The woman is a tour de force and needs no introduction. She's a country singer, songwriter, multi-instrumentalist, record producer, actress, author, businesswoman, and philanthropist who has won multiple American Country Music Awards, Grammy's, Emmy's, American Music Awards, and Academy nominations to name a few.
She's often imitated but never duplicated and rivals another diva inducted into the hall of fame for her business acumen and longevity. It is with much admiration, love, and respect that Party Favorz honors the one and only Ms. Dolly Parton into the Diva Hall of Fame. Enjoy!
   Album: Dolly Parton – The Diva Series  
   Genre: Dance Music
   Year: 2018
   Total Time: 53:44:00
Jolene (Kygo Remix)
Baby I'm Burnin' (Disco Mix)
Downtown (Chris' Disco Mix)
Potential New Boyfriend (Long Version)
Walking on Sunshine (Mark Kamin's Harder Mix)
Two Doors Down (Boy Wunder Mix)
9 to 5 (Club Mix)
Peace Train (Junior's Arena Anthem)
(Visited 1 times, 1 visits today)
Podcast: Download
Listen on: Apple Podcasts | Google Podcasts | Amazon Music | Android | iHeartRadio | Deezer | Donate