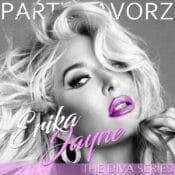 Party Favorz is back with a new entry into the Diva Hall of Fame. Erika Jayne (Erika Girardi) was born and raised in Atlanta, GA (my adopted home city) and rose to prominence with the release of her debut single Rollercoaster in 2007, which topped the Billboard Dance Club chart. Subsequent singles like Stars, Give You Everything, and Pretty Mess hit the top spot followed by the release of her underrated debut album Pretty Mess. Produced by the legendary Eric Kupper, the album was heavily influenced by 80's icons like Madonna and Prince while retaining an electro-pop sensibility that was modern at the time of its release. It really is stellar if you've never had the chance to listen to it.
In keeping with our promise to induct virtually every Diva in Billboard's 100 Greatest of All Time Top Dance Club Artists, Ms. Jayne ranks at no. 42 with a total of 9 number-one club hits under her belt.
Party Favorz was fortunate enough to interview Erika during her ascendancy, which is still available on the site. I am not a journalist, nor do I pretend to be. So it's a pretty meat-and-potatoes interview but she was nice enough to send us some really cool t-shirts that were later auctioned off.
Many of you know Erika Jayne as a fan-favorite on the Real Housewives of Beverly Hills in addition to multiple stints on The Young and the Restless as well as other television shows. She continues to tour and appear at multiple Pride events throughout the country as we gays absolutely adore this woman. Just one look at her video for One Hot Pleasure and you'll know why.
While Erika continues to release singles like the playful XX$PENSIVE (included here) and the recent Cars, she hasn't commissioned remixes like she did with her previous efforts. She has been remixed by some of the biggest names in the industry, so I took the liberty of including at least two different versions of her biggest hits in this set. They are so unique and different, it's often difficult to discern that they are the same song; giving testament to how strong the originals were.
Erika is currently on a book tour for "dishy, tell-all memoir" Pretty Mess. You can get more information at Simon & Schuster's website.
It is with great respect and admiration that Party Favorz inducts Erika Jayne into the Diva Hall of Fame. Pop this set in and not only relive your fondest and gayest memories but see how she has kept up with the musical landscape and adapted accordingly. We adore you, Erika. Keep doing what you're doing. ENJOY!
   Album: Erika Jayne | The Diva Series  
   Genre: House, Dance, Club
   Year: 2018
   Total Time: 01:38:02
Get It Tonight (EDM Mix) [feat. Flo Rida]
Party People (Ignite The World) (Hector Fonseca Club Remix)
Crazy (Chris Cox Club Mix)
Party People (Ignite The World) (Jody Den Broeder Club Mix)
Stars (Mike Rizzo Club Mix)
Stars (Moto Blanco Remix)
Crazy (Jump Smokers Remix) [feat. Maino]
PAINKILLR (Cole Plante Remix)
XXPEN$IVE (Original Mix)
How Many F__ks (Dave Audé Remix)
Pretty Mess (Dave Audé Club Mix)
One Hot Pleasure (Extended Mix)
Give You Everything (Dave Audé Club Mix)
Roller Coaster (DJ Escape & Johnny Vicious Main Mix)
Pretty Mess (Tracy Young Pretty Club Mix)
One Hot Pleasure (Ralphi Rosario Club Mix)
Roller Coaster (Moto Blanco Club Mix)
Give You Everything (Moto Blanco Club Mix)
(Visited 1 times, 1 visits today)
Podcast: Download
Listen on: Apple Podcasts | Google Podcasts | Amazon Music | Android | iHeartRadio | Deezer | Donate