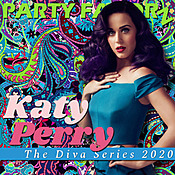 Katheryn Elizabeth Hudson known professionally as Katy Perry, is an American singer, songwriter, and television judge. Katy is no stranger to the Diva Hall of Fame and unless you've been living under a rock for the past 13 years — the woman has been a force in pop music with nine number-one singles and has sold 18 million albums and 125 million singles worldwide.
Katy Perry was lit voice for a generation of millennials with massive hits like "I Kissed A Girl," "California Gurls," "Teenage Dream," "Firework" (a massive gay anthem), "Roar," "Dark Horse," and more.
Her highly anticipated big-budget videos like "Roar" and "Dark Horse" were the first of any artist to reach a billion views. This was proof that MTV may be dead but the art of video making was not, where YouTube and Vimeo picked up the slack generating millions for artists and music publishers.
As with many artists of her era — her fans grew up, got jobs, and settled down with families of their own. As such, her music has continued to mature while retaining that goofy, playful persona we've all come to love about her. With a new marriage to hottie Orlando Bloom and baby appropriately named "Daisy," it may be time for her music to transition into the young admirable adult she's become because I think her fans will continue to follow her. Even though her excellent release "Smile" received a lukewarm reception from critics, there's plenty of evidence that the transition is already occurring.
[youtube v="KeSatZwp1gE"]
That being said — I feel there's an elephant in the room that she smartly addressed with a potential collaboration with the Korean pop group Blackpink. This group has already gained superstar status around the globe and is finally making inroads into the U.S. market with their recent "How You Like That." But, their recent collaborations with Lady Gaga, Dua Lipa, and Selena Gomez (all Diva Hall of Fame inductees) have raised the question as to whether these ladies (see their management and label) are more interested in promoting themselves by poaching established artists and their fan base.
None of these collaborations have yielded a major hit but have generated millions of views (read ad revenue) and streams. It's unknown what the deals entail but I suspect they highly favor this group who has yet to prove their value in the U.S. market. Look no further than the "Sour Candy" duet with Lady Gaga where she doesn't come in until halfway through the song. It appears Katy has picked up on this and likely knows something I don't but given her recent remarks about a potential collaboration:
Speaking specifically about BLACKPINK, Katy shared with The Standard, "To be honest, I feel like some of that can be just people trying to make numbers. And, I'm not here to make numbers. I'm here to move hearts.
Far be it for Party Favorz to suggest what she should do but if she does — it should be a 60/40 split in her favor.
For now, Party Favorz is celebrating 13 years of one of our most enduring DIVAS. Katy — WE ADORE YOU and wish nothing but the best for you and your family while looking forward to hearing whatever you put out in the future. It's with much love and respect that we reinduct Katy into the Diva Hall of Fame. ENJOY!
Album : Katy Perry 2020 | The Diva Series
Genre : Dance-Club, House, EDM
Year : 2020
Total Time : 02:47:32
1. Harleys In Hawaii (Liam Keegan Remix)
2. Teenage Dream (Liam Keegan Remix)
3. California Gurls (Manhattan Clique Extended Mix) [with Snoop Dogg]
4. Firework (Liam Keegan Extended Mix)
5. Waking Up In Vegas (Manhattan Clique Bellagio Remix)
6. E.T. (Manhattan Clique Club Mix)
7. Swish Swish (CraigWelsh Pop Remix) [feat. Nicki Minaj]
8. Never Really Over (R3HAB Extended Remix)
9. Cry About It Later (DJ Louie Lou Club Bootleg)
10. Roar (Cosmic Dawn Club Mix)
11. Dark Horse (Manhattan Clique Remix) [feat. Juicy J]
12. Wide Awake (Cosmic Dawn Remix)
13. Part Of Me (Freemasons Club Mix)
14. Last Friday Night (Almighty Club Mix)
15. Peacock (Cory Enemy & Mia Moretti Vocal Club Mix)
16. Chained To The Rhythm (Cutmore Club Remix)
17. Smile (Joel Corry Extended Mix)
18. 365 (Andrew Marks vs. Charlie Lane There For You Edit) [with Zedd]
19. Starstrukk (Discotech Remix) [with 3OH!3]
20. I Kissed A Girl (Jason Nevins Funkrokr Extended Mix)
21. Hot N Cold (Almighty Anthem Club Mix)
22. This Is How We Do (Chris Cox Mixshow Edit)
23. Feels (Danny Dove Remix) [with Calvin Harris, feat. Pharrell Williams & Big Sean]
24. Daisies (Oliver Heldens Remix)
25. Bon Appetit (Liam Keegan Remix With Rap) [feat. Migos]
26. Unconditionally (Cosmic Dawn Club Remix)
27. Never Worn White (Guy Scheiman Remix)
28. The One That Got Away (7th Heaven Club Mix)
29. Hey Hey Hey (Kay Stafford At The Ibiza Beach Club Mix)
30. Walking On Air (Country Club Martini Crew 1992 Extended 12″)
31. Birthday (Mark Picchiotti Discopia Remix)
32. Rise (Barry Harris Remix)
33. If We Ever Meet Again (Digital Dog Club Mix) [with Timbaland]
(Visited 1 times, 1 visits today)
Podcast: Download
Listen on: Apple Podcasts | Google Podcasts | Amazon Music | Android | iHeartRadio | Deezer | Donate