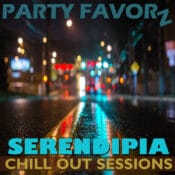 In our latest Chill Out session, "Serendipia," we dive into a world where Deep House, Melodic House, Organic House and Lounge intertwine to create a uniquely soothing experience. This episode carefully avoids the superficial, instead offering a deep, authentic dive into the soul of chill music.
Kicking off with Crew Deep's "A Whole New Level" (T.Markakis Remix), the session immediately establishes a mood of relaxed sophistication. The track's deep bass lines and subtle, energetic beats set a tone that's both calming and invigorating. It's a perfect example of how Deep House can be both soothing and stimulating.
Following this, "Free" by Because Of Art, Jody Wisternoff & James Grant, takes the listener on a melodic journey. Its blend of smooth rhythms and airy synths creates an atmosphere that's both dreamy and grounded, a hallmark of our Chill Out sessions.
Wassu's "The Way Back" continues this narrative. It's a track that feels like a reflective stroll, with its gentle progression and organic textures. The beauty of Organic House is in its ability to weave natural sounds into an electronic tapestry, and this track does it brilliantly.
"Reverie" by PROFF further adds to the depth of "Serendipia." The song's intricate harmonies and subtle build-ups encapsulate the essence of Melodic House. It's a piece that speaks directly to the emotions, weaving a story without words.
As "Serendipia" progresses, each track, from M.O.S. & Krasa Rosa's "We Are Kids" to Tony Lionni's introspective "Talking To Myself," enriches the session's narrative. These aren't just tracks; they're chapters in a story of relaxation and introspection.
In "Serendipia," we strive to go beyond the usual. Each selection isn't just a part of the Chill Out session; it's an integral piece of a larger musical tapestry, one that invites listeners to unwind and explore the depths of chill music. With "Serendipia," we're not just listening to music; we're experiencing a journey through sound, emotion, and tranquility.
Album : Serendipia
Genre : Melodic House, Organic House, Deep House, Lounge
Year : 2023
Total Time : 03:25:03
1. Intr0beatz – Take Off (Original Mix)
2. Crew Deep – A Whole New Level (T.Markakis Remix)
3. Because Of Art, Jody Wisternoff & James Grant – Free (Extended Mix)
4. Wassu – The Way Back (Extended Mix)
5. PROFF – Reverie (Original Mix)
6. M.O.S. & Krasa Rosa – We Are Kids (Original Mix)
7. Tony Lionni – Talking To Myself (Original Mix)
8. Adam Francis – Refractions (Original Mix)
9. Nora En Pure – Arbora (Extended Mix)
10. Lana Del Rey – Say Yes To Heaven (Dot Major Remix)
11. Nora En Pure – Illusions (Extended Mix)
12. Adriatique & WhoMadeWho – Miracle (RUFUS DU SOL Remix)
13. Eran Hersh, Anorre & The NGHBRS – 3 Sense (Extended Mix)
14. Drelirium & Dre Guazzelli – Rainbow (Original Mix)
15. Gorge & Greater Than Us feat. DE SAINT – Wasted Time (Extended Mix)
16. Dre Guazzelli, Drelirium & Anton Ishutin – Xel Ha (Original Mix)
17. Gullen – Serendipia (Original Mix)
18. Franky Rizardo – Apollo (Original Mix)
19. Harrington – City Vibes (Original Mix)
20. Vite & Hole Box – Emotional Things (Ilias Katelanos & Plecta Remix)
21. Dam Swindle – That's Right (Original Mix)
22. The 8 Beat Quartet – Twelve (Kanedo Remix)
23. Darren Bray – Haven (Original Mix)
24. Pig&Dan – Clouds (Original Mix)
25. South Bloom – Let Me In (Original Mix)
26. Matias Fittipaldi, Juan Deminicis & Bautista Toniolo – Give (Original Mix)
27. Green George & Ofana Nawe with Tabia – See You Again (Extended Mix)
28. Local Options – Afterglow (Original Mix)
29. 070 Shake – Black Dress (Anyma Extended Remix)
30. Alex Connors & Hardy Heller – Remembrance (Extended Version)
31. Crew Deep – Location (T.Markakis Remix)
32. Markus Homm – Thinking About You (Original Mix)
33. Simone Vitullo & Camorra – It Feels So Good (Original Mix)
34. Constantin Nasiri feat. Mitiades Pistof – Children (Original Mix)
35. Jago Alejandro Pascua – Promises (Extended Mix)
(Visited 1 times, 7 visits today)
Podcast: Download
Listen on: Apple Podcasts | Google Podcasts | Amazon Music | Android | iHeartRadio | Deezer | RSS | Leave a review