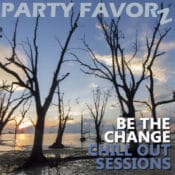 It's been nearly a full orbit around the sun since Party Favorz graced your playlists with our last Chill Out Session mix. We figured the universe was giving us a nudge to drop another one for those seeking a mental escape. Clocking in at just over two hours, this latest installment is finely-tuned to serve as the ideal soundtrack for your chill-out sessions.
Musical genres are like living organisms; they evolve. In keeping with the ever-changing landscape, this new Chill Out mix incorporates an eclectic blend of Melodic House and the freshest genre on the block—Amapiano. For the uninitiated, Amapiano burst onto the scene in South Africa in the mid-2010s, carving a unique niche for itself. Picture it as a sumptuous cocktail of deep house, jazz, and lounge vibes, all underscored by throbbing basslines and ethereal synths.
But what really sets this mix apart? "Be The Change" serves as the linchpin of the experience. It's not just any chill-out track; it's the perfect chill out, intertwining each musical element so fluidly that the transition from one tune to the next becomes almost imperceptible. That's the beauty of it—the lines blur, creating a seamless auditory tapestry that envelops you in its embrace. And that, we reckon, is the essence of a true chill-out session.
Over the years, Party Favorz has been a sonic playground, experimenting with various versions and flavors of chill out. We've been storytellers, weaving mixes that sometimes feature sound effects as threads connecting each song. Our earliest sets even took you on a global tour, echoing themes that ranged from the meditative to the melancholic, and from hope to contemplation. While these Chill Out mixes may not be the blockbuster hits in our diverse array of releases, they've amassed a tribe of devout followers who find solace in the tranquility they offer.
So yes, the Chill Out series may not hold the crown for popularity within the expansive Party Favorz universe, but it does boast a die-hard community of aficionados. It's for you, the loyals, the seekers of calm amidst chaos, that we dedicate this latest Chill Out offering.
Until the next time…ENJOY!
Album : Be the Change
Genre : Melodic House, Amapiano
Year : 2022
Total Time : 02:32:29
1. Steffen Laschet – Mitternachtsluft (Original Mix)
2. Above & Beyond – Surge (PROFF & Igor Garanin Extended Mix)
3. Dole & Kom – Paris Green (Original Mix)
4. Lisandro (AR) – Dreams Come True (Extended Mix)
5. Volen Sentir & Makebo – Alchemist (Original Mix)
6. Tim Green – The Night Is Blue (Original Mix)
7. Major League DJz & Major Lazer – Ngibambe (Original Mix)
8. TEG – Moonbeams (Original Mix)
9. Roy Rosenfeld – Toco (Original Mix)
10. Tim Green feat. Felicia Douglass – Tears (Original Mix)
11. Sebastien Leger – Ariana (Original Mix)
12. Mustafa Ismaeel & Dilby feat. Shar – Nothingness (Original Mix)
13. Roy Rosenfeld – Kala (Original Mix)
14. &ME x Black Coffee – The Rapture Pt.III (Original Mix)
15. Damian Lazarus feat. Jem Cooke – Into The Sun (Major League DJz Remix)
16. Breakfast Dubz – New York City (Original Mix)
17. Jorja Smith – All Of This (Major League DJz x Dlala Mlungu Remix)
18. PROFF – Nibbana (Volen Sentir's Pink Sky Extended Retouch)
19. Adassiya feat. P.Rivas & Lorenz – Mektoub (Jean Claude Ades Remix)
20. Newman (I Love) – The Moon And The Stars (Extended Mix)
21. Shai T – Summer O'Clock (Original Mix)
22. Makebo & Amonita – Back To The Roots (Extended Mix)
23. Alex Vanni – Stay (Extended Mix)
24. Monolink – Turning Away (Parra For Cuva Remix)
(Visited 1 times, 1 visits today)
Podcast: Download
Listen on: Apple Podcasts | Google Podcasts | Amazon Music | Android | iHeartRadio | Deezer | Donate