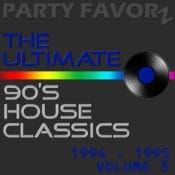 It turns out there were more songs left in this block than I thought so there will be one more volume of the Ultimate 90's House Classics [1994 – 1995] set dropping tomorrow or the day after.
Even though we're having great spring weather here in Georgia while the rest of the country is in a deep freeze, I'm in a pissy mood. We lost Katherine our 20 year old cat earlier this year and now Karl Jr. our Betta who's not even 6 months old is dying of unknown causes. I've spent a shit ton of money trying to get him healthy again but nothing is working and it breaks my heart to see him in distress.
So, here's the set and I'll just let it speak for itself.
Album : The Ultimate 90's House Classics [1994 – 1995] Vol. 3
Genre : 90's Classic House
Year : 2021
Total Time : 2:32:28
1. Billie Ray Martin – Running Around Town (BT's Jacobs Ladder Mix)
2. Blondie – Heart Of Glass (Richie Jones Club Mix)
3. Staxx – You (Matthews Love Power Mix)
4. Reel 2 Real feat. The Mad Stuntman – Can You Feel It (Roger's Bass Hit Mix)
5. M People – Moving On Up (Select Mix Remix)
6. Patra – Worker Man (Phat And Insane)
7. Wink – Higher State of Consciousness (DJ Wink's Hardhouse Mix)
8. Donna Summer – I Feel Love '95 (Rollo & Sister Bliss Monster Mix)
9. 20 Fingers – Short Dick Man (J.J. Energy Mix)
10. Our Tribe – Love Come Home (Dignity Piano Mix)
11. Sphinx feat. Sabrina Johnston – What Hope Have I (The Big Mix)
12. Saundra Williams – I Want It , I Need It (Real Love) (MK Real Dub)
13. MK feat. Alana – Love Changes (MK Mix)
14. Crystal Waters – 100% Pure Love (Club Mix)
15. Barbara Tucker – Stay Together (Frankie Feliciano Broken 'Edit' Mix)
16. Celine Dion – Misled (Richie Jones Club Mix)
17. River Ocean feat. India – Love & Happiness (Yemaya Y Ochun) (Morales Club Mix)
18. Rozalla – I Love Music (Stone's Club Mix)
19. Londonbeat – Come Back (Morales Club Mix)
20. Deep Forest – Deep Forest (Flying Away Mix)
21. Ultra Nate – Show Me (Masters At Work Club Mix)
22. Sound Of Blackness – I Believe (Classic Gospel Mix)
23. K.D. Lang – Lifted By Love (Elevate Your Love Mix)
24. Donna Summer – Melody Of Love (Wanna Be Loved) (Junior Vasquez DMC Remix)
(Visited 1 times, 1 visits today)
Podcast: Download
Podcast (preview-channel): Download