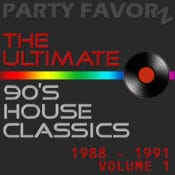 House Music has its roots in the mid-1980s and really took hold by the latter part of the decade. After the "Disco Sucks" backlash of the early 80's – dance music in general never went away but started a fragmented process due to synthesizers and beat machines becoming more common after the DJ superstars like Giorgio Moroder and Cerrone successfully deployed them in the late 70s.
The Evolution of House Music
The music evolved into New Wave dance and Hi NRG but the most lasting genre that has permeated every segment of dance music to this day is House Music. The genre by itself splintered early on into sub-genres like Acid House, Deep House, and Hip House which gave rise to its use in commercial hits like "Pump Up the Volume," "Theme From S-Express," "Bizarre Love Triangle" and "Back To Life (However Do You Want Me)," which topped the Billboard Top 100 at the end of the decade.
The popularity was fueled even further when Madonna released "Vogue" the following year and rap music became the norm for Hip House before transforming later in the decade to Hip Hop. The genre continued to evolve throughout the decade eventually giving way to Trip Hop, Trance, Techno, Eurodance, Garage and a variety of other electronic dance music genres.
1988 through 1991 of the Ultimate 90's House Music Classics series starts from the underground beginnings of the genre up to win it gained mainstream success. Certainly songs like "Finally," "Show Me Love," and "Gypsy Woman (She's Homeless)" would have never happened if it weren't for the underground humble beginnings that started in Chicago before spreading to New York and eventually globally.
THE BEGINNING OF SUPERSTAR DJS
The music launched the careers of major DJs who were at the forefront of this movement. So much credit is given to Frankie Knuckles but others like Larry Levan, Steve "Silk" Hurley, Shep Pettibone led to major superstars like David Morales, Tony Moran, Ralphi Rosario, Masters At Work a.k.a. "Little" Louie Vega and Kenny "Dope" Gonzalez, Junior Vasquez, Joey Negro, Basement Boys, MK, Tony Moran, StoneBridge, Todd Terry, Deep Dish, Danny Tenaglia amongst many others which has given way to those that followed in their footsteps to become household names in their own right.
There is no possible way to discount how influential House Music was and still is on popular music to this very day. While many of the titles may not be recognizable — once you listen to this epic series you may be hitting yourself upside the head because "SHIT I totally forgot all about that song" from back in the day. Many of these classic underground tracks have been gratuitously sampled in current club hits and some like Marshall Jefferson's "Move Your Body" have been merely updated for today's dancefloor while retaining everything from the original and have become outright hits on their own.
All of this is not to say some songs that capitalized on the House Music craze didn't spawn one-off obnoxious ear worms like Right Said Fred's "I'm Too Sexy," (which is featured here) but frankly so did Disco. As a result, these songs are also included because it's part of the larger narrative that cannot be overlooked.
IN CONCLUSION
Compiling, mixing and remastering all of these classics songs has been a massive undertaking that's been well worth the time. Everything you remember and don't is included in these and future sets schedule for release over the coming months and these songs have never sounded better. If you're looking for only the hits, there's always the original seven volume set of the 90's House Classics series Party Favorz released in 2010.
Created with love, passion, devotion to all things House Music, Party Favorz is taking you on a journey through the past that's the basis for everything you enjoy today. Any aspiring DJs should be playing close attention and listening to these sets for inspiration as to what's possible. This is history that keeps repeating itself so it's worth your time to get educated.
I've got the first three volumes scheduled for release over the coming days before getting into some new Disco House and Peak Hour sets. Until then…ENJOY!
Album : The Ultimate 90's House Classics [1988 – 1991] Vol. 1
Genre : 90's Classic House
Year : 2020
Total Time : 2:26:46
1. Soul II Soul – Keep On Movin' (Original Mix)
2. Sybil – Don't Make Me Over (The KING-dom Come Mix)
3. DNA feat. Suzanne Vega – Tom's Diner (12″ Mix)
4. Beats International – Dub Be Good To Me (Norman Cook's Excursion On The Version)
5. Soul II Soul feat. Caron Wheeler – Back To Life (However Do You Want Me) (Ultimix)
6. Lisa Stansfield – All Around The World (Select Mix Remix)
7. The Chimes – 1-2-3 (UK Raw Mix)
8. Snap! – The Power (Full Mix)
9. B.G. The Prince Of Rap – This Beat Is Hot (Get Into The Rhythm Mix)
10. Janet Jackson – Rhythm Nation (House Nation Mix)
11. Heavy D & The Boyz – Now That We Found Love (David Morales Mix)
12. Mariah Carey – Someday (New 12″ House)
13. The Chimes – Heaven (Physical Mix)
14. Chaka Khan – I'm Every Woman (Dancin' Danny D)
15. Mariah Carey – Emotions (12″ Club Mix)
16. Lisa Fischer – Save Me (DM2 Mix)
17. Ce Ce Peniston – Finally (12″ Choice Mix)
18. London Beat – I've Been Thinking About You (Def 12″ Mix)
19. Malcolm Mclaren & The Bootzilla Orchestra – Deep In Vogue (Banjie Realness)
20. Madonna – Express Yourself (Non-Stop Express Mix)
21. Cathy Dennis – Touch Me (All Night Long) (Ultimix)
22. The Cover Girls – Funk Boutique (12″ Remix)
23. Nomad – (I Wanna Give You) Devotion (Original Club Mix)
24. Marky Mark & The Funky Bunch – Good Vibrations (Donnie D.'s Boomin' Bass High Powered Club Dub)
25. Deskee – Dance Dance (Tony Humphries Mix)
26. Deee-Lite – Good Beat (Extend The Beat Mix)
27. Janet Jackson – Miss You Much (Shep's House Mix)
28. Madonna – Vogue (Select Mix Remix)
(Visited 1 times, 2 visits today)
Podcast: Download
Podcast (preview-channel): Download