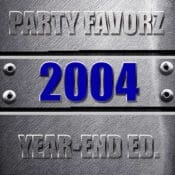 The year 2004 was a pivotal period in the evolution of dance music, with a range of outstanding tracks that still hold sway on the dance floor. Here, we take an in-depth look at some of the top dance songs of 2004 and the talented DJs who gave these tracks a refreshing new spin.
Jason Walker's "Foolish Mind Games" got a captivating makeover in the hands of the renowned Junior Vasquez. Vasquez's remix of the track stood out among the top dance songs of 2004 for its pulsating rhythm, energizing beats, and Walker's compelling vocal delivery. Vasquez's expert touch turned this track into a club anthem that still resonates with dance enthusiasts.
"Love's Divine" by Seal received a vibrant remix from The Passengerz, dubbed the Sanctuary Club Mix. The Passengerz perfectly balanced Seal's emotive vocals with an uplifting beat to create one of the biggest dance songs of 2004. Their impressive remix showcased their talent for blending poignant lyrics with foot-tapping rhythms.
Milk & Sugar teamed up with Lizzy Pattinson to release "Let The Sun Shine," and the Terrace Mix of this track made it a standout among the top dance songs of 2004. The track's uplifting melody, coupled with Pattinson's ethereal vocals, made it a favorite on the dance floor. The Terrace Mix, with its deep bass and sunny beats, is an embodiment of Milk & Sugar's versatile approach to dance music.
"Cha Cha Heels" by Rosabel and Jeanie Tracy received a phenomenal remix from Tony Moran and Warren Rigg. Their collaborative effort turned this track into one of the biggest dance songs of 2004. Moran and Rigg's remix is a testament to their creative prowess, adding high-energy beats and exciting tempo changes to the original, making it a dance floor staple.
The Calderone + Suryanto Mix of Goldfrapp's "Strict Machine" is one of the most unforgettable remixes from 2004. Their version, a hypnotic blend of electronic beats and pulsating rhythms, highlighted why it belongs among the top dance songs of 2004. Calderone and Suryanto's distinct approach to remixing is evident in this mix, adding a layer of dark allure to Goldfrapp's original track.
Last but certainly not least, Alicia Keys' "Diary" was transformed into a dance floor hit by Hani's Club Mix. Hani masterfully interspersed Keys' soulful vocals with groovy beats, making it one of the biggest dance songs of 2004. Hani's ability to turn soulful ballads into dance anthems is displayed in full force in this remix.
In conclusion, the top dance songs of 2004 were marked by creativity, innovation, and a perfect balance between original melodies and DJ-infused beats. These tracks and their subsequent remixes reflect the evolving dance music landscape, underlining why 2004 was such a memorable year for the genre. The biggest dance songs from this year continue to be beloved by dance music enthusiasts, and their influence can still be felt on today's dance floor.
Album : Year-end Edition 2004 | Volume 4
Genre : Circuit, Electro, House
Year : 2004
Total Time : 01:28:56
1. Jason Walker – Foolish Mind Games (Junior Vasquez Remix)
2. Madonna – Love Profusion (The Passengerz Club Profusion)
3. Seal – Love's Divine (The Pazzengerz Sanctuary Club Mix)
4. Dido – Sand In My Shoes (Steve Lawler's We Love Ibiza Mix)
5. Milk & Sugar feat. Lizzy Pattinson – Let The Sun Shine (Terrace Mix)
6. Rosabel with Jeanie Tracy – Cha Cha Heels (Tony Moran + Warren Rigg Remix)
7. Superchumbo feat. Celeda – Dirtyfilthy (Chus & Ceballos Mix)
8. Goldfrapp – Strict Machine (Calderone + Suryanto Mix)
9. Sun – One With You (Mike Rizzo Global Club Mix)
10. Dido – Stoned (Deep Dish Remix)
11. Alicia Keys – Diary (Hani Club Mix)
(Visited 1 times, 1 visits today)
Podcast: Download
Listen on: Apple Podcasts | Google Podcasts | Amazon Music | Android | iHeartRadio | Deezer | RSS | Leave a review