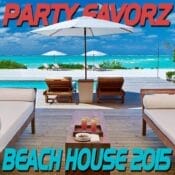 I'm serving up (earlier than usual) some of the hottest house music for your summer enjoyment. From disco to house and everything in between, it doesn't get any sweeter than this when you're hanging out at the pool.
That being said, Party Favorz is on its last legs. With my recent split from Rick, single income, and a new apartment, I just don't have the money to keep this site afloat. I want to thank DiscoBall for sending me $10, which I will use to keep the partyfavorz.com domain but other than that, that's about all I can do.
To add another wrench into things, my father (and best friend) was just diagnosed with dementia right when I begin training for a new job working from home this next week. I'm kind of not in a good place at the moment even though I have another surprise going up for you folks for this year's Gay Pride tomorrow.
The site is set to expire on June 18th, but I'll likely have the domain transferred to GoDaddy (because it's cheap) so I can retain ownership of my baby.
There's been a lot of action going on with my YouTube channel even though I keep getting copyright claims sent over to me. Google asked me to participate in a lengthy questionnaire, which dealt specifically with these claims and it appears they may be working on something to monetize the podcasts (I'm not the only one doing it) for the respective artists.
As a result, I may try to expand it, which is entirely different from what you folks are used to but that may be my best option for the time being (unless Google can't work something out and I ultimately get shut down). I can't say for certain.
In the meantime, enjoy this heavenly slice of funky-disco-house-shit I've put together. The full high-quality download is available for everyone at partyfavorz.com.
I'll be back tomorrow with my final Pride gift to you all. Until then …ENJOY!
Album : Beach House 2015




Genre : Funky, House, Deep House, Disco, Soulful




Year : 2015




Total Time : 01:39:02
Robert Clivilles feat. Kimberly Davis – Set Me Free (C&C Music Factory Organ Club Mix)
Crazibiza – Blended (Original Mix)
DJ Lady D – All Night Long (R.O.N.N. Chicago Boogie Remix)
Disclosure & Gregory Porter – Holding On (Gus Pirelli VIP Disco Mix)
Yolanda Be Cool & DCUP – Soul Makossa (Money) (Club Mix)
Chic feat. Nile Rodgers – I'll Be There (DJ Yiannis Edit)
Lorenzo Tracks – Anytime You Wanna (Original Mix)
Etienne De Crecy feat. Madeline Follin – You (Todd Edwards Remix)
Alex Herrera – I've Got The Place
The Shapeshifters feat. River – It's You (Original Mix).wav
Kaz James – Show Me All Your Love (My Digital Enemy Club Mix)
Lenny Fontana – Everybody Put Your Hands Up (Loris Conte Remix)
Enzo Siffredi – Sometimes (Original Mix)
Lika Morgan – Relax (Don't Do It) (Original Mix)
Nadia Gattas – The Feeling (Tom Bull Mix)
Simon Adams & Stefano Mango – Look At You
Pagany feat. Chanelle – Caught In The Middle (Roby Arduini & Pagany Tribute Mix)
Adri Block – That Summer Groove (Original)
Blonde feat. Alex Newell – All Cried Out (Oliver Nelson Remix)
Third World – Now That We Found Love (Monsieur ZonZon Refresh Extended)
(Visited 1 times, 1 visits today)
Podcast: Download
Listen on: Apple Podcasts | Google Podcasts | Amazon Music | Android | iHeartRadio | Deezer | Donate