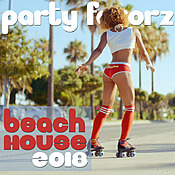 Just in time for your Fourth of July, festivities, Party Favorz is back with some brand-spanking new FunkyDiscoHouseShit for your beach and pool parties.
Served with a heaping dose of NuDisco and contemporary House Music, Beach House 2018 is bound to have you pull out your rollerskates so you can get your boogie on! In what are increasingly troubled times, this is the best way to cast your worries aside and just have a good time.
It's been sweltering here in the ATL with daily downpours that lead to muggier than normal evenings. What can I say other than it keeps getting hotter and hotter each year. I can't help but recall the 80's movie Body Heat starring William Hurt and Kathleen Turner. The entire setting of this erotic thriller is reminiscent of the type of weather we've continued to experience year after year.
I hope everyone has an enjoyable holiday (even though it falls in the middle of the week) because I have the distinct feeling this country is heading towards a civil war very soon, and it's not going to be pretty but I digress.
Until the next time…ENJOY!
Album: Beach House 2018
Genre: Nu Disco, House Music
Year: 2018
Total Time: 01:52:47
DJ Koze – Pick Up (12" Extended Disco Version)
Sebb Junior – Don't Play That (Original Mix)
Soul Speech – Morning Light (Original Mix)
JMC (Australia) – What I Feel (Original Mix)
Ridney – Gotta Come Back (Extended Mix)
Peter Brown – Say It Again (Original Mix)
Sammy Deuce – Burn It Up (Original Mix)
DJ Mes – Da Change (Miguel Migs Salty Rub)
Doug Willis – Risky Biznizz (Joey Negro Bionic House Mix)
Reel People feat. Navasha Daya – Can't Fake The Feeling (John Morales M+M Main Mix)
PAX – Electric Feel (Extended Mix)
PEZNT feat. Gregers – Toxic Love (Original Mix)
Soft House Company – What You Need (Micky More & Andy Tee Remix)
Shakedown – At Night (Purple Disco Machine Extended Remix)
Jay Vegas – I Need U (2018 Update)
Alek Soltirov – So Good (Original Mix)
Moon Rocket & Re-Tide – Superstition (Moon Rocket Funky Remix)
Seamus Haji – Last Night A DJ Saved My Life (Dr Packer Remix)
Mona Lisa – Lights (Ron Carroll Night Light Vibe)
Soulsearcher – Can't Get Enough! (Illyus & Barrentos Extended Club Refix)
X-Coast – XTC IV (Kornél Kovács Remix)
Funky Truckerz – Good Things (Original Mix)
(Visited 1 times, 1 visits today)
Podcast: Download
Listen on: Apple Podcasts | Google Podcasts | Amazon Music | Android | iHeartRadio | Deezer | Donate