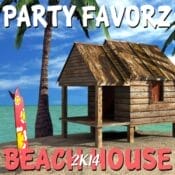 It's time for that funkydiscohouseshit …YEAH, BABY!   Comprised of the finest disco, funk, soul and deep house of the moment, the 2K14 Beach House is on FIRE this year!!!  In fact, I couldn't contain the fire and it ended up spreading into a second set, which will be dropping on Friday.  Just in time for your 4th of July holiday, I'm letting loose some serious sunshine for the beach lovers and the pool-side margarita-sipping divas.
No doubt when you do a quick scan of the track-list, you will notice two notable songs that may leave you scratching your head.  Before you go off half-cocked and start sending me nasty messages about why I mucked-up your summertime fun with Katy Perry, I suggest you listen to it first.  Her latest single Birthday was released with a gazillion remixes.  Mark Picchiotti took the opportunity to throw in not one but three different mixes (house, disco, and beach), all of which are exceptional and surprisingly fit the song really well. Besides, with "beach" in the title, it was a surefire bet it would be included.
The other oddity you may ask yourself is why didn't I include the Frankie Knuckles amazing remix of Michael Jackson's Love Never Felt So Good.  Honestly, I have been impressed with all of the remixes for this song and DJ Kue's filtered-disco version was just too delicious to leave out.  So, Frankie's take (which was his very last remix before his passing) IS included in volume 2 coming out Friday.  While his version was left intact by Eric Kupper, I had no choice but to do some creative editing to reel the song in because this ain't the 90s no more.  Regardless, his final offering is a fitting tribute to the King of Pop and another gold star in the legacy that Frankie leaves behind.
Finally, DO NOT MISS out on the last track Jubel by Kingande.  This song is an OMFG summer tune!  The original version came out last year but Ultra picked up the distributing rights for the US and commissioned several remixes for the song.  I fully expect Jubel to lodge itself into the most memorable summer songs of 2014.  Expect to be hearing either this or the amazing Tube & Berger remix on the upcoming Hot Mess summer EDM set I've got scheduled later in July.
I've got an interview with my company for a management position later this afternoon so everybody wishes me luck.  After all, I need the money so I can keep feeding your rapacious appetites for all things Party Favorz [grin].  I'll be back on Friday with volume 2 of Beach House.
Until then …ENJOY!
Album : Beach House 2K14
Genre : Disco, House
Year : 2014
Total Time : 01:27:59
1. SouLutions – Listen (Maurro Extended Mix)
2. Katy Perry – Birthday (Mark Picchiotti Beach Remix)
3. Michael Jackson – Love Never Felt So Good (Kue's Studio 54 Mix)
4. Twism & B3RAO – You Can't Hide (Original Mix)
5. Felipe Avelar & El Seano – Party Down (Original Club Mix)
6. Samuele Sartini feat. Ultra Nate – So Glamorous (Original Mix)
7. Lisa Stansfield – So Be It (Cahill Club Mix)
8. Joey Negro vs. Horse Meat Disco – Candidate For Love (Joey Negro Disco Blend)
9. Dimitri From Paris & DJ Rocca – Disco Shake (Original Mix)
10. DJ Cassidy feat. Robin Thicke & Jessie J – Calling All Hearts (Frankie Knuckles & Eric Kupper Remix)
11. Nathan East – Daft Funk (Eric Kupper Vocal Mix)
12. Audioguys – All Your Love (City Soul Project Classic Mix)
13. Peter Gelderblom & Randy Colle – Got To Be Good (Original Mix)
14. Jamie Lewis feat. Michael Watford – I'm Lost (Jamie Lewis Monster Club Mix)
15. Block & Crown feat. Atilla Cetin – Groovin To The Top (Original Mix)
16. Basement Jaxx – Never Say Never (Mark Knight Remix)
17. Klingande – Jubel (Nora En Pure Remix)
(Visited 1 times, 1 visits today)
Podcast: Download
Listen on: Apple Podcasts | Google Podcasts | Amazon Music | Android | iHeartRadio | Deezer | Donate