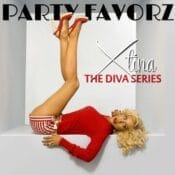 To kick things off, the one and only Christina Aguilera is being re-inducted to the Diva Hall of Fame and by all accounts, she fits the true definition of a DIVA. The attitude, the voice, and the looks were all on full display during her three-year run as a coach on The Voice. You can credit that stent on the show for putting her back into the spotlight.
Since the release of Bionic and its subsequent pan by critics (whether justified or not … I think not) and a star turn in the mega-flop Burlesque (alongside three-time Diva Hall of Fame inductee Cher), her star power started to rapidly fade. Coupling that with some seriously added poundage, led folks to believe she just wasn't all that into it anymore, or worse, experiencing serious depression.
Her follow-up album Lotus didn't fare much better and despite a loyal following, people began to scratch their heads and wonder what the hell was going on. Fortunately, high-profile collaborations with Maroon 5 and Pitbull have kept her on the charts not to mention a return to The Voice this fall should maintain that momentum.
Far be it for me to make any suggestions about her music career but I'm gonna anyway.  If she wants to be relevant, she will have to adapt to the current scene on the radio. I'd suggest working with William Orbit, Benny Benassi, or Calvin Harris (actually all of them) on her next project. She can still be Christina but these producers know their shit and could easily shape a new sound and image for Miss X. Take it for what it's worth, but putting out another dated formulaic album will be the final nail in her coffin.
WOW! I didn't mean for this induction to come off so harsh we absolutely adore Xtina. So that being said, Party Favorz honors the woman, the voice, the TRUE DIVA, and all that she has contributed to our lives. Without further ado, please welcome Xtina a.k.a. Christina Aguilera! XOXOXO
Album : The Diva Series featuring Xtina




Genre : Dance, Electro, Pop




Year : 2013




Total Time : 01:21:49
1. Beautiful Theme
2. Beautiful (Peter Rauhofer Mixshow)
3. Keeps Gettin Better (Donni Hotwheel Dirty Extended Mix)
4. Genie In A Bottle (Lenny B's Club Mix Edit)
5. Let There Be Love (Cutmore Club Remix)
6. Not Myself Tonight (Jody den Broeder Explicit Club Mix)
7. Dirrty (Coco Snatch Club Mix)
8. Bionic (Brian Cua Circuitry Club Mix)
9. The Voice Within (Bertoldo & Bermudez Club Mix)
10. What A Girl Wants (Thunderpuss Dirty Club Remix)
11. You Lost Me (Hex Hector & Mac Quayle Club Mix)
12. Ain't No Other Man (Arenna Unreleased Mix)
13. Candyman (DJ MichaelAngelo's Freemasons Mix)
14. Your Body (Oxford Hustlers Club)
15. Hurt (Chris Cox New Mixshow Edit)
16. I Turn To You (Thunderpuss 2000 Club Mix)
(Visited 1 times, 1 visits today)
Podcast: Download
Listen on: Apple Podcasts | Google Podcasts | Amazon Music | Android | iHeartRadio | Deezer | Donate