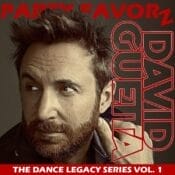 Pierre David Guetta born 7 November 1967) is a French DJ, music programmer, record producer, and songwriter. He has sold over nine million albums and thirty million singles worldwide.[2] In 2011, Guetta was voted as the number one DJ in the DJ Mag Top 100 DJs poll.[3] In 2013, Billboard crowned "When Love Takes Over" as the number one dance-pop collaboration of all time.[4]
David Guetta had already been involved in the club scene since 1984 – 2000. However, it wasn't until he and partner Joachim Garraud collaborated with the American Gospel singer Chris Willis for a series of songs with including their first single "Just a Little More Love." That collaboration spawned several more releases and the eventual compilation of F*ck Me I'm Famous. in 2003.
In 2004, their collaborations continued on the release of Guetta Blaster. After releasing four semi-successful singles it was a mashup of "Just a Little More Love" and the Tocadisco remix of The Egg's "Walking Away" titled "Love Don't Let Me Go (Walking Away)" that blew up the global dance floors. The rest they say is history.
We all know the name David Guetta as one of the most successful DJ, producer, and songwriter of the early millennium. His superstar status skyrocketed with the massively successful "When Love Takes Over" with Kelly Rowland and later "Titanium" with Sia.
As the dance music world evolved, so did his style. He went from Electro-House to EDM and now Future House, Reggaeton and whatever the current trend in dance music takes him. David Guetta is still in high demand and often releases tracks under his pseudonym Jack Black. In fact, he just had a number one Billboard Dance Club hit with "Put Your Phone Down (Low)" not to mention the wildly successful "Wild Ones" with Nicky Romero and Sia.
You could say that David Guetta paved the way for other superstar DJs like Avicii, Calvin Harris, Marshmello and, The Chainsmokers by elevating these folks not just from being a DJ or dance party promoter but to multi-talented artists in their own right.
It's with great love and respect for the man and his music that Party Favorz recognizes the very talented David Guetta with an induction into our Legacy series. There's a lot of memories built into this set and I fully expect a lot of you to fall back on your heels when you hear a lot of these older tracks again. 10 years ago was not that far back but many of these songs are now considered classics.
Because his output is so extensive, I attempted to culminate some of his early work with the majority of his biggest hits, which ultimately spans two sets. Expect volume 2 to drop tomorrow. Until then…ENJOY!
Album: David Guetta – The Dance Legacy Series vol. 1




Genre: EDM, House Music




Year: 2019




Total Time: 01:34:39
1. Would I Lie To You (Cash Cash Club Mix) [with Cedric Gervais feat. Chris Willis]
2. Who's That Chick (Extended Version) [feat. Rihanna]
3. Shot Me Down (Roberto Rios x Dan Sparks Bootleg) [feat. Skylar Grey]
4. Titanium (Extended) [feat. Sia]
5. This One's For You (Stefan Dabruck Remix) [feat. Zara Larsson]
6. Without You (Cosmic Dawn Club Mix) [feat. Usher]
7. Sweat (David Guetta Extended Remix) [Snoop Dogg vs. David Guetta]
8. Bang My Head (MARC Bootleg) [feat. Sia & Fetty Wap]
9. Wow (David Guetta & Joachim Garraud Remix) [Kylie Minogue]
10. Sexy Bitch (Extended) [feat. Akon]
11. Hey Mama (DJ Pitchugin Mashup) [feat. Nicki Minaj & Afrojack]
12. Mad Love (J Bruus Remix) [Sean Paul & David Guetta feat. Becky G]
13. Little Bad Girl (Club Mix) [feat. Taio Cruz & Ludacris]
14. She Wolf (Falling To Pieces) (Extended) [feat. Sia]
15. Dangerous (Cosmic Dawn & Andy Reese Club Mix) [feat. Sam Martin]
16. What I Did For Love (Extended Mix) [feat. Emeli Sande]
17. Lovers On The Sun (Extended Mix) [feat. Sam Martin]
18. Acapella (David Guetta Extended Mix) [Kelis]
19. So Far Away (Nicky Romero Remix) [Martin Garrix & David Guetta feat. Jamie Scott & Romy Dya]
20. When Love Takes Over (Original Club Mix) [feat. Kelly Rowland]
21. Rest Of My Life (Jolyon Petch's Extended DJ Mix) [Ludacris feat. Usher & David Guetta]
22. Goodbye (CraigWelsh Remix) [Jason Derulo & David Guetta feat. Nicki Minaj & Willy William]
(Visited 1 times, 1 visits today)
Podcast: Download