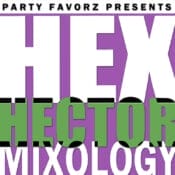 I'm back with the fourth installment of the Hex Hector Mixology tribute.  There aren't too many surprises in this set other than Aretha Franklin's A Rose Is Still a Rose, which frankly is a timeless slice of house.  Personal favorites in this set are George Michael's Outside, Faith Hill's Breathe, Donna Summer's Love On & On.  Probably my ALL-TIME favorite that I've reached out for on more than one occasion [grin] is Angie Stone's remarkable Wish I Didn't Miss You.  This song makes my heart sink every time I hear it.
We still have three (yes three) more of these to go.  Be sure to keep checking back or better yet follow Party Favorz on Facebook, TuneIn (which is now updating correctly), email, my feed, or any of the numerous ways you prefer to get your updates.
Until the next time …ENJOY!
Album : Hex Hector Mixology v4
Genre : Circuit House Classics
Year : 2015
Total Time : 01:19:25
Mary J. Blige – Deep Inside (Hex Hector Remix)
Aretha Franklin – A Rose Is Still A Rose (Hex Hector Club Mix)
George Michael – Outside (Hex Hector 12" Vox Up Mix)
Madonna – Music (HQ2 Club Mix)
Kristine W – Lovin' You (Hex Hector Main Club Mix)
Faith Hill – Breathe (Hex Hector Main Club Mix)
Donna Summer – Love On & On (Hex Hector & Mac Quayle 12" Mix)
Deborah Cox – Things Just Ain't The Same (Hex Hectors Club Mix)
Amber – Yes! (HQ2 Mixshow Edit)
Angie Stone – Wish I Didn't Miss You (Hex Hector & Mac Quayle Main Mix)
Deborah Cox – It's Over Now (Hex Hector Club Mix)
(Visited 1 times, 1 visits today)
Podcast: Download
Listen on: Apple Podcasts | Google Podcasts | Amazon Music | Android | iHeartRadio | Deezer | Donate