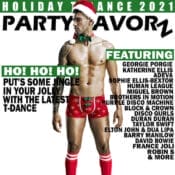 SURPRISE! Hot off the heels of yesterday's Holiday Edition 2021 — Party Favorz is dropping our year-end Holiday Tea Dance set and man this is a whopper!
We've been throwing tracks into this folder since our last Tea Dance release in August hoping to build up enough to complete a new set by year's end. It wasn't looking good but we went back and pulled several tracks from the scrapped Block & Crown Legacy set we had planned, and added several brand new Purple Disco Machine tracks (two of which appeared on the recent Catching Up with Purple Disco Machine release) and a whole slew of great vocal house along with classics from the 70s, 80s, and 90s that have been re-worked for today's modern music scene plus some current Club Fusion releases. The result is the perfect culmination of fun afternoon party tracks for any crowd on any given Sunday, any time of the year. If fun is what you're looking for — then look no further.
We want to give a HUGE thank you to Joel Dickinson and Dirty Disco for forwarding Joel's upcoming release titled 'Heart of Stone' with the fabulous France Joli. The full release is currently available for pre-order on Beatport and other popular platforms and contains remixes by Wayne G & Porl Young, Luca Debonaire, Dirty Disco & Matt Consola, Elof De Neve, Twisted Dee & Diego Fernandez, and Cajjmere Wray. There's a separate release of the radio edits and a third release of the original. You can also stream the original version on Spotify. Frankly, every version is fantastic and Miss Joli has never sounded better. Tea Dance never sounded so fabulou! Check out the original below.
Even with everything going on, we're going to go ahead and try to get the Top Dance Songs of 2021 out these final two weeks before capping the year off with our annual New Year dance party set Blow Your Own Horn. It's a lot to take on in a short period but it's doable. So make sure you subscribe to Party Favorz to ensure you don't miss out on these highly anticipated releases.
Until the next time…ENJOY!
Album: Holiday T-Dance 2021
Genre: Vocal House, Disco House, Gay Anthems
Year: 2021
Total Time: 04:03:19
1. Cheri Moon – Ain't I A Woman (Soulshaker Remix)
2. Ed Sheeran – Shivers (Jax Jones Extended Remix)
3. Cactushead & Rowetta – Life's What You Make It (Dirty Disco & Matt Consola Mainroom Remix)
4. Georgie Porgie – Life Goes On (Stefano Pain & Francesco Pittaluga House Mix)
5. Katherine Ellis & Lee Dagger – Stronger Together (Larry Peace Happy House Mix)
6. Adeva – In & Out Of My Life (Michael Gray Remix)
7. Spiller feat. Sophie Ellis-Bextor – Groovejet (If This Ain't Love) (Purple Disco Machine & Lorenz Rhode Extended Remix)
8. The Human League – Don't You Want Me (Purple Disco Machine Extended Remix)
9. Disco Pirates x Miquel Brown – So Many Men, So Little Time 2021 (Pure State Club Mix)
10. Phoenix Lord feat. Carol Jiani – Fascinated (Bruno Kauffmann Extended Remix)
11. Mark Knight feat. Mason – Givin' Up (Extended Mix)
12. Brothers In Motion – When I'm Feeling You (Brothers In Motion Jackin House Mix)
13. Purple Disco Machine feat. Tasita D'Mour – Rise (Extended Mix)
14. Block & Crown feat. Supermodels From Sweden – Nasty Girls (Original Mix)
15. Disco Gurls – We Started Dance (Extended Mix)
16. Block & Crown feat. Culum Frea – Dance Dance (NuDisco Club Mix)
17. Hotswing – Bamboleo (Extended Mix)
18. Duran Duran feat. Tove Lo – Give It All Up (Dirty Disco Mainroom Remix)
19. Taylor Swift – We Are Never Ever Getting Back Together (Dirty Disco Mainroom Remix – Taylor's Version)
20. Lady Gaga – Free Woman (Rip City Boys Remix Extended)
21. Block & Crown x Marc Rousso – Movin On Up (Club Mix)
22. Westend – Perfect (Extended Mix)
23. Junior Jack – Stupidisco (David Penn Extended Remix)
24. Block & Crown x Lissat x Paul Parsons – Take Me To Funkytown (Original Mix)
25. Nick Jay feat. Silke – Break The Chain (7th Heaven Club Remix)
26. GhostMasters – Love Replay (Extended Mix)
27. Claptone feat. Barry Manilow – Nobody (Original Mix)
28. Keven Rosa – No Face (DJ Georgie Porgie House Remix)
29. Dan Thomas & K-Syran – 2 People (Main Daytime Mix)
30. Elton John & Dua Lipa – Cold Heart (Claptone Extended Remix)
31. The Kid LAROI feat. Justin Beiber – Stay (Dirty Disco Mainroom Remix)
32. Taylor Swift – Wildest Dreams 2K21 (Dirty Disco Mainroom Remix)
33. Ancalima & Tom Franke – Better Off Alone (Sean Finn Remix)
34. David Bowie – Let's Dance (Rafael M House Vibe Remix)
35. Antonello Ferrari & Aldo Bergamasco feat. Becka – People Hold On (Antonello Ferrari & Aldo Bergamasco Club Mix)
36. The Fog – Been A Long Time (Full Intention 2021 Remix)
37. Harper – No More What If (Eric Kupper Extended Vocal Mix)
38. First Choice – Let No Man Put Asunder (Alan Dixon Remix)
39. Block & Crown x Maickel Telussa – Move Out (Original Mix)
40. Crazibiza – My Lips (Cheesecake Boys Deeper Mix)
41. Discotron – Back To My Roots (Original Mix)
42. Killed Kassette feat. Shawnee Taylor – This Ain't Love (Zsak Extended Remix)
43. France Joli & Joel Dickinson – Heart Of Stone (Dirty Disco & Matt Consola Mainroom Remix)
44. Charli XCX – Good Ones (Dirty Disco Mainroom Remix)
45. Disco Gurls feat. The Soul Gang – Stay (Extended Mix)
46. Richard Grey & Dead As Disko feat. Robin S – Show Me Love (2021 Disco Rework)
47. Disco Gurls feat. The Soul Gang – Last Xmas (Extended Mix)
(Visited 1 times, 1 visits today)
Podcast: Download
Listen on: Apple Podcasts | Google Podcasts | Amazon Music | Android | iHeartRadio | Deezer | RSS | Leave a review