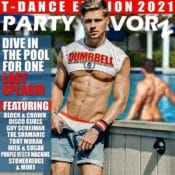 Well, f∩ck me twice on Sunday! Party Favorz (i.e. me, myself, I) has been in a pissy mood all week trying to get this CDN and caching plugin configured to my liking and it's turned into an obsession of defeat. I don't know what that means but it seems to fit the situation.
Since Last Splash was already in the bag and I had planned on taking a much-needed break afterward — I decided to go ahead and drop this Labor Day weekend party set 7 days early.
You'll notice a lot of Block & Crown remixes in this set as I've only recently gotten access to an entire catalog of their work through one of my DJ services. Many of these songs never see the light of day on Beatport or Traxsource but are DJ exclusives (likely because of licensing issues). There's not a lot known about this duo other than they appear to be filling the gap left behind by Almighty and 7th Heaven who have been staples in the gay dance arena for several decades.
While their brand isn't strictly geared towards gay audiences as you'll notice their work ends up on our Dance Club, Disco House, and Peak Hour series — they're remarkably agile and easily adapt to whatever they're working on. In the last couple of years, they started remixing other artists' tracks and have recently embarked on creating original songs for the ZYX Music label (another blast from the past that's still pumping out great dance music).
Other notable duos that have more recently entered this arena are Nacho Chapado & Ivan Gomez whose Guareber Recordings produced earworms with big tribal circuit beats and have now expanded into power disco house tracks and mashups much like Block & Crown are doing with great success. It's not clear if their Disco Gurls and Ghostmasters monikers are indeed themselves or ghost DJs working under the Guareber Recordings label but they've hit on something as there's lots of room and plenty of source material to sample and mashup from the 70s, 80s, 90s and the early millennium.
Then of course there's the Party Favorz favorite Purple Disco Machine, whose remixes and remakes of historical dance classics and current pop and Indie songs bring everything into his own little disco universe has exploded on the dance scene making him one of the most sought-after DJs right now.
Throw all this together with brand new dance gems and cheesy remakes of 80s love songs and you got yourself the most EPIC T-Dance set I've put out to date.
As mentioned earlier, I plan on taking a couple of weeks off from the podcast to recharge my batteries and hopefully get this g*ddamned caching plugin properly configured as well as the app for Party Favorz, which was all working great until it wasn't. The last one isn't on me but on the underlying structure supporting it — mainly Microsoft.
When I return, I plan on finishing off the Ultimate 90's House Classics series before launching the much-delayed Ultimate Trance Classics series. Until the next time…ENJOY!
Album: Last Splash 2021 | T-Dance Edition
Genre: Vocal House, Disco House, Gay Anthems
Year: 2021
Total Time: 03:50:21
1. Patrick Cowley & Sylvester – Menergy (Purple Disco Machine Extended Remix)
2. Disco Gurls – More Intensity (Extended Mix)
3. Block & Crown x Paul Parsons – Let The Music (Original Mix)
4. GhostMasters – Let Me Down (Extended Mix)
5. Craft B. feat. Nica Brooke – Summer Voyage (Cover Me) (DJ Rudd Full Vocal Edit)
6. Guy Scheiman, MarcosAdam & Mickael Kruz – Easy Lover (Lucius Lowe Classic Mix)
7. Block & Crown – Left Me All Alone (Club Mix)
8. Block & Crown feat. Martina Budde – All Around The World (Original Mix)
9. Block & Crown – I Can't Wait (Club Mix)
10. Block & Crown x Marc Rousso – Straight Up (Original Mix)
11. Block & Crown, Maickel Telussa – I Don't Want No Other (Original Mix)
12. Jipsta – Get You Home (Wayne G & Porl Young Diskofied Club)
13. Romain Pelletti & Jay Sebag – All By Myself (Original Mix)
14. The Shamanic feat. Andrea Love – Fire (Shamanic Latin Fire Mishow Edit)
15. Block & Crown – Hung Up (Original Mix)
16. Block & Crown – By My Side (Original Mix)
17. Lissat & Voltaxx – Groovejet (Block & Crown Remix)
18. Promise Land feat. Sandy B – I Want Your Love (Extended Mix)
19. Headrocka feat. Jozay Luis – Echoes (Lucius Lowe Remix)
20. Rio Dela Duna vs. Block & Crown – The Feelin' (Original Mix)
21. Boys On Decks – Feel The Vibe (The Acrobatics Remix)
22. Block & Crown x Maickel Telussa – Dance To The Rhythm (Original Mix)
23. Disco Gurls feat. The Soul Gang – I Just Can't Stop (Extended Mix)
24. Robert Feelgood – Make it Hot (Block & Crown Clubmix)
25. Block & Crown x Maickel Telussa – Moef Gaga (Original Mix)
26. Block & Crown, Paul Parsons – Gotta Love (Original Mix)
27. Milk & Sugar – Let The Sun Shine (Purple Disco Machine Extended Remix)
28. Tony Moran, James Anthony, GSP & Nikki Valentine – Myself (Chris Brogan Remix)
29. Luca Debonaire & Maickel Telussa – Take A Look At Me (Original Mix)
30. Block & Crown, Paul Parsons – Fake Feelin' (Original Mix)
31. Alex Gardini – Higher (Discoslap Remix)
32. Boys Noize feat. Jake Shears – All I Want (Purple Disco Machine Extended Remix)
33. Stonebridge & K-Syran – DRAMA (Extended Mix)
34. Elton John feat. Dua Lipa – Cold Heart (Dirty Disco Private Remix)
35. Sol Brothers & Damon C Scott – Turn Around (Extended Mix)
36. Block & Crown x Lissat feat. Alison – Sing It Back (Extended Mix)
37. Block & Crown – Karma Is A Killer (Extended Mix)
38. Disco Gurls feat. The Soul Gang – Let's Do It (Extended Mix)
39. Maxwell House UK feat. Soraya Vivian – Release Yourself (Kornastone Extended Retro Mix)
40. Block & Crown – Frequency Freakin (Original Mix)
41. Block & Crown – Shake Your Body (Club Mix)
42. Block & Crown x Paul Parsons – Boogie No More (Extended Mix)
43. Voltaxx & Lissat x Block & Crown – Release Yourself (2020 Club Mix)
44. Black Box – Ride On Time (Jet Boot Jack 2019 Remix)
45. Stacey Jackson feat. Snoop Dogg – Live It Up Rebooted (The Shamanic Club Mix)
46. Tommy Marcus – By Your Side (Eric Kupper Remix)
(Visited 1 times, 1 visits today)
Podcast: Download
Listen on: Apple Podcasts | Google Podcasts | Amazon Music | Android | iHeartRadio | Deezer | Donate