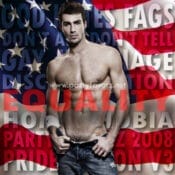 This weekend, the majority of Pride events will be taking place from coast to coast.  As such, it's fitting that I have my 3rd installment of my Pride Edition up and ready to go.  Get ready for some serious BIG, BAM, BOOM! in this mix.  I want to give a shout out and big thanks to DJ 7Up for sliding my a copy of the unreleased Manny Lehman mix of Lady GaGa's "Just Dance".  By substituting that song for something I considered ordinary and run of the mill, it took an outstanding mix and essentially made it excellent.
Some of you may have noticed that the Beatport Pride Edition was a little shrill, especially at the beginning.  Considering that the songs were free, I can't complain too much.  However, I did go back and put it through Platinum Notes which analyzes the mix and then makes the necessary pitch and dynamic adjustments.  I don't use this software often, because it's not always dead on and can actually ruin individual songs.  If I encounter a problem with the original track, I generally prefer to do it myself.  Since this mix was a last-minute project, I did it the other way to save time and to finish up this mix.  I do believe any issues with the original sound quality have now been corrected.
Speaking of which, the Allan Natal mix of Madonna's 'Give It 2 Me' is a 'private' mix that was not picked up by Warner.  As a result, there was no incentive for Allan to go back and do a final mixdown.  Much like the Collette and Basstoy tracks on the Beatport mix, it was very shrill.  So I went back and manually lowered the frequencies and corrected any pitch problems along with some other anomalies.  So, any complaints from people who don't ever contribute to this site and just download all the time will be ignored.  I'm not trying to be an asshole, but with almost 25,000 hits since November (when this site began) and over 10,000 downloads between Podbean and my 4shared account, you'd think people might be a little more appreciative, especially in the U.S.  You folks out in New Jersey, New York, Illinois, Florida, Alabama, Colorado, and Texas shouldn't be such strangers.  I see the same cities and states every week downloading the mixes, but never a peep out of you until something displeases you.  It would be nice to have you folks make some general comments and suggestions about what you like and/or dislike or as to how I can make this site better.  While this is only a suggestion, it would sure be nice to hear from you guys.
While I'm at it, several people have emailed me requesting the cover art without the watermark.  Sorry folks, it ain't gonna happen.  In fact, starting in July, I will be adding my ID to all future mixes.  It's unfortunate and wasn't something I wanted to do, but a certain situation here locally made it a necessity.  I'd suggest that anyone who wants to pass off my hard work as their own, actually work harder at doing what I enjoy doing and start trying to improve your own skills.  Enough said.
For those of you who aren't quite into this big room sound and were wondering where are all the fun, funky and camp songs?  No need to worry.  Next weeks final installment is all about feeling free, gay and happy!  It should probably be called 'Party Favorz TrackBack' mix since it contains all the fun songs that have been high on my gaydar since the beginning of the year.  Instead of a song here or there, you get it all in one mix.
For now, I hope those of you celebrating Pride, have a great weekend, as I'm certain I will be doing this next week (if I don't go on vacation).  So feed your pod and grab it to go before heading out this weekend…and as always, ENJOY!
Album : Pride Edition v3
Genre : Circuit, Tribal, Progressive
Year : 2008
Total Time : 1:19:18:00
Track : 1
Title : Give It 2 Me (Allan Natal Private Mix)
Artist : Madonna
Next to the Paul Oakenfold take, this mix reigns supreme!  Sorry Jody and Eddie, I just wasn't feeling either of your mixes.  Who knows, maybe Warner will put out a 3rd disc of mixes and include this one.  Essential
Track : 2
Title : Shine (Original Mix)
Artist : Yahel pres. Jessie Labelle
Finally, Offer Nissim starts using someone other than Maya.  Oh wait, this isn't Offer?  Sure as hell sounds like his style.  Just kidding, Yahel is also from Israel and was smart enough to use some outstanding male vocals by Jessie Labelle.  Finally, a guy who's vocals come across more natural and not like someone trying to sing a Broadway show tune.  Essential
Track : 3
Title : Sex Tape (The Multi-Orgasm)
Artist : Twisted Dee
What can I say other than Ms. Twisted Dee is on fucking FIRE!  The girl's got her hands in everything and quite frankly is putting Tracy to shame.  Though she's been around awhile, last year is when she really started getting some attention.  Now, that attention has turned into R-E-S-P-E-C-T.  As for this song, I think she used the out takes from 'Bareback Mountain' oops, I mean 'Brokeback Mountain' that were deleted so they could get an 'R' rating…LOL  This will make more sense once you've heard the song.  Outstanding
Track : 4
Title : Fame (Edson Pride Addicted Mix)
Artist : DJ Bill Bennett & Suzanne Palmer
I'm sorely disappointed that Sony wouldn't float me some of the mixes for this song.  Especially since I've already used this on my 'Splash Edition' in May.  I tried everything, but they wouldn't budge.  Anyhow, once they are finally released on July 2nd, assuming the label doesn't push it back again, I fully expect this to be the HUGE hit of the summer.  Just remember, you heard it here first.  Essential
Track : 5
Title : You (Friscia & Lamboy Tribal Club Mix)
Artist : Oscar G feat. Anne Lise Nicole
If this sounds vaguely familiar, that because the riff is loosely based around the 2002 Murk (Oscar G & Ralph Falcon) hit with Kristine W 'Some Lovin'.  I guess six years is long enough to cop yourself.  Indeed, a totally different song with a strong vocal showing by Lise Nicole, this should play very well in the clubs.  Outstanding
Track : 6
Title : How Long (Paul Goodyear Peak Vocal Mix)
Artist : Linda Clifford
This showed up on one of those promo discs out of the U.K.  It definitely stuck out amongst all the electro tunes that were on there.  Haven't heard anything from Ms. Clifford since her rendition of the Odyssey classic "Going Back To My Roots" back in 2002 or so.  I'm smelling a major hit after her pal Ralphi hops on board along with some other heavy weights in the industry.  Outstanding
Track : 7
Title : Just Dance (Manny Lehman Remix)
Artist : Lady GaGa feat. Colby O'Donis
So what do you get when Gwen Stefani teams up with Akon?  Lady GaGa and Colby of course.  With a major push from her label, this song has been blowing up in clubs all over the U.S.  Sad that all the mixes were pretty much one flavor, 'cause the Manny mix blows them all away.  Due to time constraints, I had to take out the Colby white bread take on Akon, but I don't think anyone will miss it.  Essential
Track : 8
Title : Kung Fu Me (Original)
Artist : Twisted Dee
It looks like Ms. Dee has been diggin' into her parents old 45's.  Who would have ever thought about remixing a one hit wonder pop diddy during the Bruce Lee craze of the seventies could feel so right?  Brilliant!  Essential
Track : 9
Title : Cafe Con Alegria (Original Extended)
Artist : Tony Moran & Deep Influence
When Tony's not mixing pop tunes, he sure knows how to deliver the goods.  Deep and dark, with some sexy vocals and an amazing production make this a wonderful masterpiece.  Essential
Track : 10
Title : Mr. Man (Jonathan Peters & Mac Quayle Remix)
Artist : Jonathan Peters
Got some big and I mean BIG tribal beats pounding right through your body in this one.  Thank God Jonathan brought in the Mac to help round out the mix, since he has a tendency to go off on these tangents that completely destroy a great song (i.e. 'Alright').  This song will shake the foundation, so watch out if you have a heart condition.  Essential
Track : 11
Title : Reach 2008 (ATFC's Lil' Mo' Life Mix)
Artist : Lil' Mo' Yin Yang feat. India
90's classic gets a serious millennium makeover.  It was massive back in the day and is just as massive in it's new garbs.  Essential.
Track : 12
Title : Let Me Be Your Fantasy (Stefan Gruenwald Club Mix)
Artist : Jerry Ropero & Stefan Gruenwald feat. Annamaria
I've been trying to make this work for several weeks now, and finally found the perfect vehicle to transition out of.  From the long drawn out intro, to the mesmerizing vocals and right down to the hard hitting beats, this deserves a lot more attention than it's currently receiving.  Essential
Track : 13
Title : Give Peace A Chance (Dave Aude Club Mix)
Artist : ONO
Usually, Yoko only allows DJ's to dip into her catalogue and remix up a storm.  This time around, she allows them to use one of John's masterpieces from the early seventies.  Sadly, not all the mixes work that well, with the Mike Cruz and Dave Aude being the best of the bunch.  The biggest disappointment was Johnny Vicious who turned in God knows what.  If he's so busy fulfilling all these requests and can't be bothered to mix someone that has gone to number one everytime a DJ is involved with one of her projects, maybe he should have just politely passed it up instead of just sitting back and collecting his pay for a mix that's even further below substandard.  Get the point?  Outstanding
(Visited 1 times, 1 visits today)
Podcast: Download
Listen on: Apple Podcasts | Google Podcasts | Amazon Music | Android | iHeartRadio | Deezer | Subscribe to Podcast