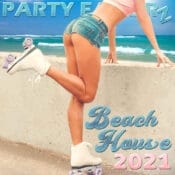 Party Favorz decided to jumpstart your weekend with the annual Beach House Edition 2021 style!
Because of an uptick in music selections, Beach House 2021 is one of the more diverse Disco House sets we've done in a while. Beach House 2021 has everything including NuDisco, Classic House, Jackin House, Soulful, and even some Gospel and Reggae thrown in for good measure — with everything sitting on the funky tip. This is one ball of sunshine that should make kicking back around the pool even more carefree.
There are some classic Disco samples sprinkled throughout as well as some updated originals. In most cases, the DJs don't use the original titles (for unknown reasons but I can surmise) a few of which will be reprised a bit later with the original titles for the fourth installment of Thank God It's Disco.
The set list for the Summer Edition 2021 for our gay circuit boy followers has already been compiled and will be ready to launch by the end of next week. Until then…ENJOY!
Album: Beach House 2021
Genre: House, Jackin' House, NuDisco, Soulful
Year: 2021
Total Time: 03:11:13
1. Beat Junkiez – All Over The World (Club Mix)
2. House Of Prayers – Disco Stepper (Original Mix)
3. Disco Gurls – Around The Disco (Original Mix)
4. Block & Crown, Paul Parsons – Relight My Dubbs (Original Mix)
5. Walterino – Too Much Of You (Da Lukas Remix)
6. Mistura & Dave Lee – Runnin' (Dr Packer Remix)
7. Mark Knight & Michael Gray feat. Gia – Love Is All We're Living For (Extended Mix)
8. The Shamanic feat. Andrea Love – Fire (Club Mix)
9. Alaia & Gallo feat. Michelle Weeks – I'm Going Up (Qubiko Extended Remix)
10. Block & Crown – The Way Love Goes (NUDisco Mix)
11. Raw Essence & Dave Lee – Do You Love What You Feel (Dr Packer Edit)
12. The Cube Guys & Alex Gewer – Dance Dance Dance (Original Mix)
13. Nari – That's The Way (Original Mix)
14. Block & Crown, Maickel Telussa – I Don't Want No Other (Original Mix)
15. Adri Block – Ride It Baby (Block & Crown BLockdown Mix)
16. Moreno Pezzolato – We Got You (Original Mix)
17. Beat Junkiez – Give Me Praise (Original Mix)
18. Brooklyn Express – Change Position (88) (Dr Packer Remix)
19. Blaze, UDAUFL feat. Barbara Tucker – Most Precious Love (Michael Gray Remix)
20. DJ Romain & Danny Krivit – Philly Groove (Dr Packer 12" Version)
21. Purple Disco Machine – Playbox (Extended Mix)
22. HRDY & DANROS – Everybody Dance (Original Mix)
23. Junior Jack – Stupidisco (David Penn Extended Remix)
24. Laurent Simeca & Crazibiza – Ain't No Sunshine (Original Mix)
25. Dawna Montell & Georgie Porgie – Love Somebody (Extended Mix)
26. Re-Tide – Piano Lover (Original Mix)
27. Alaia & Gallo feat. IDA fLO – Shoulda Coulda (Extended Mix)
28. Samo – What A Feeling (Danny Cruz Remix)
29. Crystal Waters, DJ Spen & MicFreak – Party People (Michael Gray Remix)
30. M&S pres. The Girl Next Door – Salsoul Nugget (If You Wanna) (Mark Knight Extended Dub Mix)
31. Richard Grey & Lissat – Not My Lover (Original Mix)
32. Jay Vegas – One Day (Original Mix)
33. Amyelle – Feel The Heat (Kyle Walker Remix)
34. PowerDress & Jon Pearn – Divine Nature (Extended Mix)
35. Block & Crown, Paul Parsons – Gotta Love (Original Mix)
36. Richard Grey & Dead As Disko feat. Robin S – Show Me Love (2021 Extended Disco Rework) *Party Favorz re-edit
37. Ministers De La Funk feat. Jocelyn Brown – Believe (Kurd Maverick Extended Revamp)
38. DJ Aiblo – Jammin' (Original Mix)
(Visited 1 times, 1 visits today)
Podcast: Download
Listen on: Apple Podcasts | Google Podcasts | Amazon Music | Android | iHeartRadio | Deezer | Donate