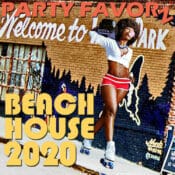 Just in time for the 4th of July, Party Favorz is laying down a surprise drop. The annual Beach House edition (sometimes called Pool Party) is a culmination of some of the finest funky disco house floating around the interwebs at the moment.
This set stays true to the format but hits a little harder than previous efforts. There seems to be a glut of Soulful House out at the moment, which is fine but honestly, nobody wants to drown in sad, melancholy, praise Jesus house music at the moment. It's just not what the doctor prescribed during this tumultuous time in our lives.
The one thing that stands out in this particular set is the magical genius of the Netherlands' Block & Crown. The duo has been churning out commercial and underground floor scorchers since 2010 while mashing, sampling, editing, and blending a vast catalog of classics into their own modern-era party tracks. Their output is like an assembly line of new party classics that will pump up any dancefloor or pool party. While they've created some remixes for other artists, they really shine when they're working with material that already has a proven track record from the past — no matter how obscure.
Look no further than yet another sample of Loleatta Holloway's "Love Sensation" — the most sampled song of all time. The song is mashed-up with the David Morales classic "Needin' U" creating the kind of summertime fun we've all come to expect from this dynamic duo, while simultaneously lifting the originals to new heights.
[youtube v="_UB10VPirms"]
I finished this eipisode last week and have had it on heavy rotation at home and in my car and I have to say there is something about this particular set that really grabs me and frankly just works. So, If you've got the isolation blues, here is your cure. ENJOY!
Album: Beach House 2020
Genre: House, Jackin' House, NuDisco, Disco House
Year: 2020
Total Time: 02:17:26
1. Block & Crown – Get Up (Throw Ya Hands Up) (Club Mix)
2. Block & Crown x The Giver – Jackin' Cola (Club Mix)
3. Milk & Sugar – Has Your Man Got Soul (Earth n Days Extended Remix)
4. Block & Crown x Marc Rousso – Release The Boogie (Club Mix)
5. Vicky D – This Beat Is Mine (Michael Gray Remix)
6. The Shapeshifters feat. Billy Porter – Finally Ready (Extended Mix)
7. Norty Cotto – This Aint No Game (Norty Cotto Q Time Mix)
8. Jackin Social Club – Le Freak (Block & Crown Summer 2020 Mix)
9. Block & Crown x Marc Rousso – Summer Stylin' (Original Mix)
10. Change Request – Keep the Fire Burning (Glass Slipper Remix)
11. Alien Disco Sugar – Sunshine In (Extended)
12. The Shapeshifters feat. Kimberly Davis – Life Is A Dancefloor (Dr Packer Extended Remix)
13. Illyus & Barrientos feat. Lizzie Nightingale – Body Movement (Extended Mix)
14. Jackin Social Club – Jackin Rio (Original Mix)
15. Crazibiza x House Of Prayers – Let's Dance (Pump It Up) (Original Mix)
16. Used Disco & Earth n Days – Hypnotize (Original Mix)
17. De'lacy – Hideaway (Nick Reach Up Remix)
18. Leandro Da Silva x Dario Trapani – Because Of You (Original Mix)
19. Seamus Haji feat. Those Guys – I Walk Alone (For Your Love) (Dr Packer Extended Remix)
20. Claptone & Mylo – Drop The Pressure (Purple Disco Machine Remix)
21. Fish Go Deep feat. Tracey K – The Cure & The Cause (Dr Packer Extended Remix)
22. Softmal – Million Days (Millions Days)
23. Block & Crown – Tonight (Original Mix)
24. Jay Vegas – Everybody (Original Mix)
25. Simon Fava & Yvvan Back – Sway (Mucho Mambo) (Extended Mix)
26. Blue Boy – Remember Me (David Penn Extended Remix)
27. Disco Dandies x Leon Ware – Inside Your Love (2 People) (Original Mix)
28. Norman Doray x Sneaky Sound System – Tell The World (Mousse T. Nineties Shizzle Extended)
(Visited 1 times, 1 visits today)
Podcast: Download
Listen on: Apple Podcasts | Google Podcasts | Amazon Music | Android | iHeartRadio | Deezer | Donate