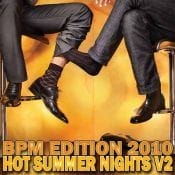 With the northeast heatwave in full effect, not only is summer burning up, so is the BPM!  Picking up where volume one left off, we slowly build the grooves out with some nice progressive sounds.  The Oakenfold/Matt Gross track Firefly is a surefire winner to get things started.  Be sure to hunt down the huge trance anthem Nat Monday produced for this song as well.  It was a bit too big and fast to be included, but it's also a real winner.
As the mix progresses, it builds one song on top of the other.  Before you realize it, you're knee-deep in some serious P-A-R-T-A-Y electro-house.  Big just keeps gettin' bigger and by the time you get to the end, you're left wanting more.  Ahhh, don't think I'd leave you, folks, in the dust.  We got volume three coming up on Friday and I can assure you, all hell breaks loose by then.
Those of you who have followed me for a long time, understand that Party Favorz doesn't raise prices and then turn around and use cheaper ingredients to make your favorite dish.  In fact, I continually strive to improve my recipes without cutting corners to pad the bottom line.  These are tough times for everyone and I get it.  However, I too operate this site and my real life on a shoestring budget.  With the necessary expansions coming in July for the G-Spot series and the addition of a Podbean business account and soon a SoundCloud Pro account, I have no other choice, but to do what BP and the federal government can't; stem the flow and control my costs.  I believe this simple restructuring will help offset my added costs to operating and maintaining Party Favorz.  Just know that there are no plans for a price increase in the foreseeable future.
If you have any concerns or questions, feel free to leave a comment or send me a message via email or Facebook.  I promise to get back to you at my earliest convenience.
That's all she wrote for now.  I hope everyone is staying hydrated and using plenty of sunscreen.  I'll be back on Friday with volume three.  Until then…
ENJOY!
Album : Hot Summer Nights v2
Genre :Electro, House, Progressive
Year : 2010
Total Time : 1:19:54:00
Track : 1
Title : Firefly (Loverush UK Remix)
Artist : Oakenfold feat. Matt Goss
Track : 2
Title : Back Together (Timofey & Bartosz Brenes 17,44 Mix)
Artist : Peter Brown feat. Etienne Ozborne
Track : 3
Title : Spacer (Hacker Boys Remix)
Artist : Highpass
Track : 4
Title : Could You Believe (AT NY Nights Mix)
Artist : ATB
Track : 5
Title : Get Up And Go (Original Mix)
Artist : Donati & Amato feat. Dany Vasile
Track : 6
Title : Star Unkind (Joseph Sinatra Original Club Mix)
Artist : 2someone
Track : 7
Title : Trip'en (Extended Version)
Artist : StoneBridge feat. Tamara
Track : 8
Title : Ridin ' Solo (7th Heaven Explicit Club Mix)
Artist : Jason Derulo
Track : 9
Title : 4th Of July (Fireworks) (Richard X Club Mix)
Artist : Kelis
Track : 10
Title : Love Dealer (Chew Fu Extended Mix)
Artist : Esmee Denters feat. Justin Timberlake
Track : 11
Title : I Got My Eye On You (Nari & Milani Club Mix)
Artist : Nari & Milani & Cristian Marchi feat. Luciana
Track : 12
Title : Boys Boys Boys (Manhattan Clique Remix)
Artist : Lady Gaga
Track : 13
Title : Sweet Addiction (Lip Junkies Club Mix)
Artist : Dreamcatcher feat. Jesso
Track : 14
Title : Call Me (Andrea T. Mendoza vs. Tibet Yes Club Mix)
Artist : Samantha vs. Sabrina
Track : 15
Title : Milk-n-Honey (Felguk Mix)
Artist : Soundpusher
(Visited 1 times, 1 visits today)
Podcast: Download
Listen on: Apple Podcasts | Google Podcasts | Amazon Music | Android | iHeartRadio | Deezer | Donate