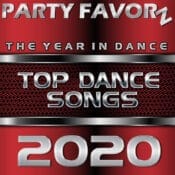 And the hits keep on rolling out! Party Favorz is back with volume two of the Top Dance Songs of 2020 and this one digs deeper.
One of the constraints of 2020 is the pandemic resulted in clubs and venues shutting down. Billboard's Dance Club chart is based on select DJ responses to track and create that chart and without input — the chart was suspended in March. "Love Hangover 2020" by Diana Ross was the last song to top that chart back in March before its demise. Leave it to the queen to have the last word.
While I use charts as a basis for compiling my year-end sets — they aren't the final word; rather a guide. Usually, I use a variety of charts that differ significantly like Billboard's Dance Club, Electronic Dance Music, and Top 100 charts to compile these sets. This year, I added Beatport, Spotify, and YouTube streams as a basis for making my decisions on what's included in the Top Dance Songs of 2020.
There is some consistency in that they all tend to agree on the top 10 – 20 songs but differ wildly from there. "Roses" by SAINt JHN (Imanbek Remix) has topped everyone's list. But, "Rain On Me" by Lady Gaga and Ariana Grande, "ily" by surf mesa featuring Emilee, "Ride It." by Regard, "Breaking Me" by Topic & A7S, "Higher Love" by Kygo and Whitney Houston, "Head & Heart" by Joel Corry X MNEK, "Secrets" by Regard & RAYE, and "Don't Stop Now" by Dua Lipa have been fairly consistent on most of their year-end charts. From there, everything wildly differs.
That's where YouTube comes into play. I look at the total number of views for videos and then cross reference the charts to base my decisions. Everyone can reasonably disagree on the inclusion of certain songs but Party Favorz attempts to hit all the high notes of the year as long as they had a certain amount of impact on the listener. That and my personal favorites will always be included.
You'll also notice some carryover from 2019. Songs that were massive the previous year that continued to chart and were in heavy rotation on radio or in the clubs (for a while) and songs that were released in late 2019 but hadn't peaked until the next year but already had enough impact to be included on both year-end charts.
Ultimately, I decide what gets included and frankly, you won't find a more comprehensive compilation for any given year in dance music than Party Favorz. My goal is to provide you with a soundtrack to your life at any given moment in time the Top Dance Songs of 2020 is the defenitive time capsule. As a result, I always recommend you download and store these sets because 10 – 20 years from now, you'll be glad you did. Trust me.
We have one more set to go before Christmas and I'll be discussing the DJs and producers that had the biggest impact on the dance music scene in 2020 and know — it wasn't anyone nominated for a Grammy (a useless award if ever there was one). Until the next time…ENJOY!
Album: Top Dance Songs of 2020 Volume 2
Genre: EDM, House, Dance, Disco
Year: 2020
Total Time: 03:01:00
1. Major Lazer feat. Marcus Mumford – Lay Your Head On Me (Joel Corry Club Mix)
2. Post Malone – Circles (Charlie Lane Remix)
3. Clean Bandit & Mabel feat. 24kGoldn – Tick Tock (Joel Corry Remix)
4. Becky Hill & Sigala – Heaven On My Mind (Colin Jay & Jose Knight Remix)
5. 24kGoldn feat. Iann Dior – Mood (Colin Jay Remix)
6. Zedd & Jasmine Thompson – Funny (Andrew Marks Get You Home Edit)
7. David Guetta & Sia – Let's Love (Charlie Lane Remix)
8. Ariana Grande – Positions (Ray Isaac Club Mix)
9. Jawsh 685 x Jason Derulo – Savage Love (DJ Baur Remix)
10. AJ Tracey x Mabel – West Ten (Colin Jay Remix)
11. Earth N Days – Just Be Good To Me (Original Mix)
12. Kygo x Donna Summer – Hot Stuff (Original Mix)
13. Sam Smith – I Feel Love (Sebastian Manuel Remix)
14. Meduza x Becky Hill x GOODBOYS – Lose Control (Extended Mix)
15. Gorgon City & Drama – Nobody (Terrace Dub – Visualiser)
16. Don Diablo feat. Zak Abel – Bad (Extended Mix)
17. Sofi Tukker & Gorgon City – House Arrest (Extended Mix)
18. Elderbrook – Numb (VIP Extended Mix)
19. Sono – Keep Control (Artbat Remix)
20. 220 Kid with Gracey – Don't Need Love (Extended)
21. Tiësto & Vintage Culture – Coffee (Give Me Something) (Original Mix)
22. The Weeknd – Blinding Lights (Cosmic Dawn Remix)
23. Alan Walker & Ava Max – Alone, Pt. II (Marc Stout Remix)
24. Joel Corry – Lonely (Extended Mix)
25. Lewis Capaldi – Before You Go (Gozzi Remix)
26. BTS – Dynamite (DJ Baur Remix)
27. Camila Cabello – My Oh My (Danny Dove Remix)
28. Lady Gaga & Ariana Grande – Rain On Me (Purple Disco Machine Remix)
29. Maroon 5 – Memories (Extended Version)
30. Doja Cat feat. Gucci Mane – Like That (Charlie Lane Remix)
31. Sofia Carson feat. R3HAB – I Luv U (Mike Cruz Club Remix)
32. Vintage Culture & Fancy Inc – In The Dark (Extended Mix)
33. Drake – Toosie Slide (Sam Collins & Jom x Terry VIP Edit)
34. CamelPhat feat. Yannis – Hypercolour (ARTBAT Remix)
35. Endor – Pump It Up (Extended Mix)
36. PAX & Rui Da Silva – Touch Me (PAX & Rui Da Silva Extended Version)
37. SHAED – Trampoline (Dave Aude Extended)
38. Martin Garrix feat. John Martin – Higher Ground (DubVision Remix)
39. KSHMR & Stefy De Cicco feat. MKLA – Kids (Extended Mix)
40. Selena Gomez – Lose You To Love Me (Colin Jay Remix)
41. Shawn Mendes – Wonder (Gozzi Remix)
42. Ava Max – Kings & Queens (Cosmic Dawn Extended Remix)
43. Regard & RAYE – Secrets (Charlie Lane Remix)
44. Justin Bieber feat. Quavo – Intentions (Danny Dove Remix)
45. R3hab & Gattuso – Creep (Extended Mix)
(Visited 1 times, 1 visits today)
Podcast: Download
Listen on: Apple Podcasts | Google Podcasts | Amazon Music | Android | iHeartRadio | Deezer | Donate