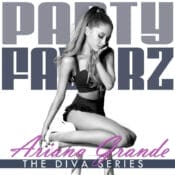 From Nickelodeon to worldwide superstar, the road to stardom has been pretty much smooth sailing for the pint-sized DIVA, Ariana Grande. Granted, she isn't earning that status because of some ongoing Twitter feud with one of her contemporaries or because she's a femme fatale, or even because she has a reputation for being difficult to work with. Quite the opposite, she's earned it because she's a genuine talent who is vocally gifted, genuinely sincere, and backs it up with her beauty (inwards as well as outwards).
She has racked up three platinum albums, multiple top 10 hits, critical praise for her singing, #2 song of the year for "Into You" and one of the top summer songs of 2014 for "Problem" with Iggy Azalea. Couple this with her acting career; she's become a true powerhouse in just a few short years.
After her amazing turn leading the "One Love Manchester" just several weeks after a bombing at one of her performances there to raise money for the victims, it became readily clear that Ariana Grande has the poise, grace, and maturity often lacking in today's, uh lackluster pop princesses. She garnered a great deal of praise from critics as well as parents whose kids slurp up her music by the bushels. More importantly, she's been a proud supporter of the LGBTQ community making her one of our favorites when it comes to the new crop of DIVAS we love and admire.
Much like her contemporary Selena Gomez, she has a very long and varied career ahead of her. It's for these reasons and more that Party Favorz proudly inducts Ariana Grande into the Diva Hall of Fame. XO
Album : Ariana Grande – The Diva Series
Genre : EDM/Dance
Year : 2017
Total Time : 01:28:33
Baby I (Cosmic Dawn Club Mix)
One Last Time (Barry Harris Remix)
The Way (Jody Den Broeder Club Mix)*
Bang Bang (Disco Suckz Remix)^
Break Free (Extended Mix)¹
Touch It (Toy Armada & DJ GRIND Big Room Mix)
Everyday (Division 4 Remix)²
Over And Over Again (Cahill Club Mix)³
Right There (7th Heaven Club Mix)ª
Dangerous Woman (Barry Harris Remix)
Side To Side (MSC Bounce Remix)º
Into You (Nathan C Remix)
Love Me Harder (Country Club Martini Crew Remix)†
Focus (7th Heaven Club Mix)
Greedy (Bagel Extended)
Problem (Discotecture Remix)‡
Love Me Harder (Gryffin Remix)†
*Ariana Grande featuring Mac Miller
^Jesse J with Ariana Grande & Nicki Minaj
¹Ariana Grande featuring Zedd
²Ariana Grande featuring Future
³Nathan Sykes featuring Ariana Grande
ªAriana Grande featuring Big Sean
ºAriana Grande featuring Nicki Minaj
†Ariana Grande featuring The Weeknd
‡Ariana Grande featuring Iggy Azalea
(Visited 1 times, 1 visits today)
Podcast: Download
Listen on: Apple Podcasts | Google Podcasts | Amazon Music | Android | iHeartRadio | Deezer | Donate