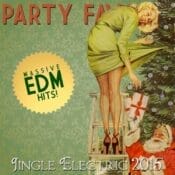 Well, pardon my French and  jingle my bells but it's beginning to look a lot like Christmas (or at least my recent cover art suggests that it is).
Originally, I had created two covers for Jingle Electric 2015 but then quickly realized, I only had enough solid tunes for one set.  Since the initial release, several worthy songs trickled in and I decided to go big this time.  When I say big, I mean really BIG.  Yup, it's been awhile since I put together a roof-raising big room set, so here it is.  I just flipped the narrative of my commercial electro-house sets with a few big-room bangers, to predominantly big room sound stitched together with a few reliable commercial tunes.  Not to worry, I didn't delve into an entire set of stadium craziness, which has no use in a club or your player other than a large festival.  Instead, I walked the line straddling between the two.
Enough of this crap, listen and either love it or hate it.  I'm coming down on the side of love.  Those of you that know me well enough, even I will admit when something I do sucks so you know I ain't blowing smoke up your tailpipe.
I want to wish a very HAPPY THANKSGIVING to those you in the U.S. today.  I had plans but decided to just chill today because I've got non-stop all-day work starting early tomorrow through Monday.  Besides, I can eat turkey, stuffing and pecan pie pretty much anytime I like.
I'm laying down the final master on my annual Holiday Edition and plan on dropping both of those next week.  So, if EDM ain't your thing and you're more into the circuit side of Party Favorz, then you'll have something to look forward to.
Until then …ENJOY!
Album : Jingle Electric pt. 2
Genre : EDM, Electro, Progressive, Deep House
Year : 2015
Total Time : 01:38:58
Steve Angello feat. The Presets – Remember (Original)
Sander Van Doorn & MOTi – Lost (Extended Mix)
Firebeatz – Tornado (Extended Mix)
Fleur East – Sax (Wideboys Club Mix)
Shift K3Y feat. Chaka Khan – Gone Missing (Gregor Salto Club Mix)
Nelly feat. Jeremih – The Fix (Jump Smokers Extended)
Adele – Hello (Ryan Kenney Remix)
Vivid – The Worth (Original Mix)
Tony Junior & JETFIRE feat. Rivero – Police (Extended Mix)
R3hab & KSHMR – Strong (Extended Mix)
Sultan, Shepard vs. Felix Leiter – BWU (Original Mix)
Dash Berlin vs. Clement BCX – I Take Care (Club Mix)
Rudimental feat. Ed Sheeran – Lay It All On Me (Cash Cash Remix)
Tiesto & Oliver Heldens – Wombass (Extended Mix)
Mind Electric feat. Elliotte Williams-N'Dure – The Edge (Pushing Me) (Original Mix)
Paris & Simo feat. Errol Reid – Can You See (Original Mix)
Samual James & JDG feat. Karra – Dynasty (Mumbai) (Extended Mix)
Don Diablo & Khrebto – Got The Love (Extended Mix)
Torio feat. Polina – Ever After (Bentley Dean Remix)
Wolfpack & DIMARO – You (Original Mix)
Tommy Johnson – Tubular Bells (Original Mix)
Galantis – In My Head (Matisse & Sadko Remix)
DVBBS – Never Leave (Extended Mix)
Selena Gomez – Same Old Love (Romos Remix)
(Visited 1 times, 1 visits today)
Podcast: Download
Listen on: Apple Podcasts | Google Podcasts | Amazon Music | Android | iHeartRadio | Deezer | RSS | Leave a review