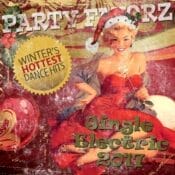 It does not appear that my host (Podbean) will allow me to manually add supporters as premium subscribers any longer. They used to but have stopped the practice because they now get 15% of whatever is donated in return for providing support for users with issues. That's on top of the fee charged by Stripe to process the subscription payments. If they come back and say okay this one time, then I'll move forward but it's not looking good.
I've resigned to the fact that no matter how popular Party Favorz is, there is no way I'll ever be able to make back the money I put into it without having to continually beg for donations like when my site hosting comes due around April/May. When I shut down Apple Music, Google Play and Tunein it makes it inconvenient for a lot of folks who have supported my efforts and frankly isn't fair to them. If I block my feed so that shit services like Deezer, PlayerFM and Mixcloud cannot access it then it blocks access to the ones I want it to appear on. Kind of a catch 22 but I'm researching away around it. I'll make an announcement if I figure that one out.
At this point, I've done all I can with this site and don't see much future beyond 2017. I'm seriously looking for a job but one that pays more than I'm already taking in at the moment, which is why I'm being picky. As for the shitbag at https://www.mixcloud.com/kepatotal/ Mixcloud sent me a takedown notice I have to fill out, which I will do shortly. Diva Hall of Fame and the Legacy sections will remain permanently closed as I assume everyone has already downloaded what they want.
So here's the Jingle Electric 2017 pt. 2 for everyone's enjoyment. Even though everything is wrapped up for the year, I plan on sticking to my original release schedule. The Holiday Edition contains one MUST-HAVE song on it that is an early promo but I can't release the set until the song drops this coming Friday, December 1st. So expect that to go up followed by the Year in Dance 2017 the following week.
I just dropped a couple of tunes into the Blow Your Own Horn 2018 set and smoothed out a couple of transitions, so I plan on getting drunk while previewing it for the rest of the day to ensure there are no other issues. For those that recently donated after my tirade yesterday, send me a message via Facebook if you would like a refund. No questions asked. ENJOY!
Album: Jingle Electric 2017 pt. 2
Genre: EDM, Dance, House
Year: 2017
Total Time: 01:25:36
Alesso feat. Anitta – Is That For Me (Original Mix)
Jimmy D. Robinson feat. A Flock of Seagulls – Pedro (Dave Aude Extended)
Halsey – Bad At Love (Barry Harris House Mix)
Toni Braxton – Coping (Disco Killerz Extended)
Ed Sheeran – Perfect (KC Lights Remix)
Jolyon Petch feat. GKCHP – Otherside feat. GKCHP (Extended Mix)
Camila Cabello – Havana (Danny Dove Remix)
G H Hat feat. Mickey Shiloh – I Got a Problem (I Wonder) (Mr. Mig & Gino Caporale Remix)
Miley Cyrus – Younger Now (Niko The Kid Remix)
Selena Gomez & Marshmello – Wolves (Alphalove Remix)
Lauv – I Like Me Better (Cheat Codes Remix)
Marshmello feat. Khalid – Silence (Tiesto's Big Room Extended)
KD Blair – Distance (Original Mix)
Lauren Taveras – Into This (Country Club Martini Crew Remix)
Sofi Tukker feat. NERVO, The Knocks & Alisa Ueno – Best Friend (Extended)
J Balvin & William Willy – Mi Gente (Alesso Remix)
Cardi B – Bodak Yellow (Barry Harris Dirty Mix)
Saladin – Party All Night (Mr. Mig Remix)
AP3 feat. Flo Rida – Have It (StoneBridge & Damien Hall Big Club Mix)
Greg Gatsby feat. J Allen – I Got You (StoneBridge Classic Club Mix)
Andreas Moss – Stuck In My Feelings (Grant Nelson Remix)
(Visited 1 times, 1 visits today)
Podcast: Download
Listen on: Apple Podcasts | Google Podcasts | Amazon Music | Android | iHeartRadio | Deezer | RSS | Leave a review