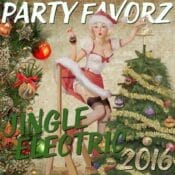 There was a lot of making up to do since I had to skip the Halloween Edition of the Dance/EDM series. Fortunately, I was able to get it cut down to two very concise sets featuring the biggest dance hits of the holiday season and some that will soon be.
I managed to get a free month from Blubrry, my new home for delivering the finest dance music podcast on the planet! That does not mean I still don't need the help, because I'm always in need of financial assitance for Party Favorz.
In the interim, relish pt. 1 of the 2016 Jingle Electric. Pt. 2 will be up shortly. Until then…ENJOY!
Album : Jingle Electric 2016 pt. 1




Genre : EDM, Electro, House




Year : 2016




Total Time : 01:21:48
Salt Ashes – Save It (Dave Aude Extended Mix)
DNCE – Body Moves (Eric Kupper Club Mix)
Jonas Blue feat. JP Cooper – Perfect Strangers (Kue Remix)
Empire of the Sun – High And Low (Arthur Baker Remix)
Lodato & Joseph Duveen – Older (Mike Rizzo Funk Generation Club Mix)
John Legend – Love Me Now (Dave Aude Extended Mix)
Bodyrockers – I Like The Way (PBH & Jack Shizzle Remix)
Emeli Sandé – Hurts (Offaiah Club Mix)
X Ambassadors – Unsteady (Mike Rizzo Funk Generation Club Mix)
VASSY – Nothing To Lose (Kue Remix)
Kristii – Recovery (Dave Aude Club Remix)
J Sutta – Distortion (Dave Aude Extended Remix)
RedOne feat. Enrique Iglesias, R. City, Serayah & Shaggy – Don't You Need Somebody (Cahill Extended Mix)
Air Supply – All Out Of Love (Strobe Extended)
Niall Horan – This Town (Tommy MC Bootleg)
Benedetto – Pon De Replay (Rihanna Moombahton Remix)
Ariana Grande feat. Nicky Minaj – Side to Side (U-GO-BOY Remix)
R3hab – Icarus (Extended Mix)
(Visited 1 times, 1 visits today)
Podcast: Download
Listen on: Apple Podcasts | Google Podcasts | Amazon Music | Android | iHeartRadio | Deezer | RSS | Leave a review