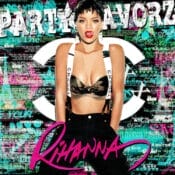 It's time for one final induction into the Diva Hall of Fame and Party Favorz is more than pleased to finally honor the one and only Rihanna.
Having moved from Barbados to the United States at the age of 16, RiRi began recording demos until her introduction to Jay-z, then head of Def Jam Recordings who ultimately signed her.
The first single Pon de Replay taken from her debut album was a top ten hit followed by her second album with the #1 hit SOS. When her third album Good Girl Gone Bad came out all bets were off. Def Jam put a hefty amount of support and promotion behind that album including a dance remix album accompanied by its initial release. Umbrella was a certified smash, which solidified RiRi's stature as an international superstar. She can thank Mary J. Blige for passing on that song when it was first offered to her. That track was followed up by other hit singles Take A Bow, Disturbia and, Don't Stop the Music, which sampled Michael Jackson's Wanna Be Startin' Somethin', and further solidified her popularity.
I don't see any point in re-hashing her relationship with Chris Brown as she's a grown woman and can make her own decisions (even if a good majority of folks disagree). You can hit the gossip sites for that crap. Equally, not much point in listing all of her accomplishments and hit singles. While not completely comprehensive, this set is damn near close. For cohesive reasons, a few songs were left off though Tony Moran and Chris Cox's popular mixes would likely resurface on a future RiRi set.
While this may be RiRi's first induction, it certainly won't be her last. It's likely time for her to release a greatest hits comp with a couple of new singles by the end of the year and then follow that up with a massive world tour, but who am I to say? Whatever she does, it will no doubt be a massive success. At this point, I would like to welcome Rihanna into the Diva Hall of Fame, where she is amongst good friends and serious heavyweights.
Until the next time…ENJOY!
Album : The Diva Series featuring Rihanna




Genre : Electro, EDM




Year : 2013




Total Time : 01:57:04
1. Only Girl (In The World) (Joey B Electro Remix)
2. Diamonds (Dark Intensity Club Remix)
3. Disturbia (Jody Den Broeder Club Mix)
4. Rockstar 101 (Dave Aude Club Mix)
5. Russian Roulette (Chew Fu Black Russian Club Mix)
6. SOS (Jason Nevins Future Retro Club Mix)
7. Pour It Up (Cosmic Dawn Club Remix)
8. Don't Stop The Music (Jody Den Broeder Big Room Vocal Mix)
9. Rude Boy (Wideboys Club Mix)
10. Pon de Replay (Pon De Club Play)
11. Shut Up And Drive (The Wideboys Club Mix)
12. Umbrella (Jody Den Broeder Lush Club Remix)
13. We Found Love (Calvin Harris Extended Mix)
14. What's My Name (Dark Intensity Remix)
15. Where Have You Been (Cosmic Dawn Club Mix)
16. S&M (Dave Aude Club Mix)
17. Right Now (TAITO Bootleg)
18. Hard (Jody den Broeder Club Mix)
19. We Ride (Lenny B Club Mix)
20. You Da One (Almighty Club Remix)
21. Breakin' Dishes (Soul Seekerz Full Club Mix)
22. Stay (Liam Keegan & Anton Powers Remix)
(Visited 1 times, 1 visits today)
Podcast: Download
Listen on: Apple Podcasts | Google Podcasts | Amazon Music | Android | iHeartRadio | Deezer | Donate