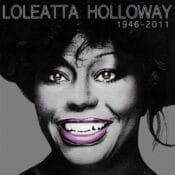 Dominant.  Revered.  RESPECTED.  When you talk about Loleatta Holloway, these are some of the adjectives used when people discuss her legacy.  Never duplicated but often imitated and ad nauseam.  Considered the Queen of Salsoul in the mid-70s and early 80s, Loleatta Holloway has had more DJs sample her music than any other artist in modern history.
Well known for her ad-lib prowess during recording sessions, Miss Holloway would get on a roll during the drop and just keep going and going.  It was fitting that Gold Mine (a subsidiary of Salsoul Records) included the full eleven-minute version of Hit and Run on her third album, where at the end you hear the producer say "okay, now let's do the album version."
By themselves, Love Sensation and Dreamin' are classic songs permanently etched into the annals of disco history.  Picked apart, these songs have provided some of the most memorable recreations of entirely new dance floor mayhem from the 90s through today.  Love Sensation has gone on to be the most sampled song in the last 30 years, further proving its singular importance to the genre which propelled it to the top of the charts.
In 1991, producer Dan Hartman (Relight My Fire; Love Sensation) and Loleatta sued UK act Black Box for using her vocals without permission on their worldwide hit Ride On Time.  They ultimately settled for an undisclosed amount and Miss Holloway was given full credit on subsequent pressings of the album.
Despite considering herself a ballad singer (Cry To Me; Worn Out Broken Heart) there is no doubt about the important role Miss Holloway played in the disco genre, which ultimately bled into 90s house music.  For a thorough recount of Loleatta Holloway's life history, avoid the rather lame Wikipedia entry about her life and jump on over to the excellent biography from the UK's Guardian newspaper.
Borrowing from the saying "there is more than one way to skin a cat," there is no doubt Miss Holloway will continue to pop up in deliciously new dance floor incarnations from time to time.  This is a true testament to her Diva stature.  We here at Party Favorz not only worships this woman but honor her memory.
Album : Loleatta Holloway | The Diva Series [Re-boot]




Genre : Disco, House, Progressive




Year : 2014




Total Time : 1:33:16.00
1. Chocolate Sensation feat. Loleatta Holloway – Ride On Time (Soulfull Pellas)
2. Cappella feat. Loleatta Holloway – Take Me Away (Mixshow Edit)
3. Ricky Martin feat. Loleatta Holloway – Relight My Fire (Hex Hector & Mac Quayle Club Mix)
4. Chocolate Sensation feat. Loleatta Holloway – Ride On Time (ATFC Shirts Off On The Podium Mix)
5. GTS feat. Loleatta Holloway – What Goes Around Comes Around (Junior's Underworld Mix)
6. Fire Island feat. Loleatta Holloway – Shout To The Top (Club 69 Vocal Mix)
7. Cevin Fisher feat. Loleatta Holloway – You Got Me Burning Up! (Triple D's We Love Disco Rebuild)
8. Loleatta Holloway – Strong Enough (Original 12")
9. Loleatta Holloway – The Queen's Anthem (Cummin In My Roller Mix)
10. Vicious & Palumbo feat. Loleatta Holloway – M.O.A.B. (Vicious & Palumbo Mix)
11. GTS feat. Loleatta Holloway – Share My Joy (Thunderpuss Club Mix)
12. Loleatta Holloway – Love Sensation '06 (Freemasons Club Mix)
13. Live Element feat. Loleatta Holloway – I Need Someone (Original Vocal Mix)
14. Loleatta Holloway – Stand Up (Hott 22 2004 Remix)
15. Loleatta Holloway – Lifting Me Up (C&M Vocal Mix)
16. Loleatta Holloway – Dreamin' (Jazz 'n' Groove Club Mix)
(Visited 1 times, 1 visits today)
Podcast: Download
Listen on: Apple Podcasts | Google Podcasts | Amazon Music | Android | iHeartRadio | Deezer | Donate