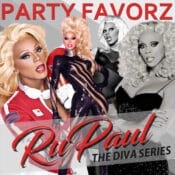 RuPaul has been recording and building his image since the mimid-80sIt wasn't until his debut album Supermodel of the World in 1993 that all his work paid off. The initial single Supermodel (You Better Work) was a global success, which led to their becoming a spokesperson for MAC cosmetics, his own talk show The RuPaul Show on VH1, a radio show with Michell Visage, cameos in a variety of movies, two books (Lettin' It All Hang Out and Workin' It! RuPaul's Guide to Life, Liberty, and the Pursuit of Style), and a total of 14 studio albums. His influence in pop culture and within the drag scene cannot be underestimated. 
"You can call me he. You can call me she. You can call me Regis and Kathie Lee; I don't care! Just as long as you call me."
RuPaul also hosts and produces the widely popular RuPaul's Drag Race which has been running strong since 2009; first on Logo and now on VH1. The show has earned two Primetime Emmy Awards and was recently renewed for its 11th season.
Just in time for Pride 2019, it's my greatest pleasure to honor the Queen of Drag into the Diva Hall of Fame not only for his camp-style booty-shaking house-music floor stompers but for his tireless work for the LGBT+ community, equality, and empowerment. He or she; (who gives a f!@#) is adored by millions and will go down in history as a pioneering visionary in the fight for equal rights and visibility. We love you Ru. Keep doing what you're doing. ENJOY!
   Album: RuPaul | The Diva Series  
   Genre: House, Dance, Club
   Year: 2018
   Total Time: 01:38:43
Supermodel (You Better Work) (Couture Mix)
Cover Girl (Macutchi's Taterz Deep Club Mix)
Call Me Starrbooty (Gomi's Long Distance Remix) [feat. 39 Stepz]
Free To Be (Freedom Wig Mix)
Sissy That Walk (Matt Nevin Fix)
Come To Me (Eric Kupper Summer Mix) [feat. Lucy Lawless]
A Shade Shady (Now Prance) (Eric Kupper 12" Mix)
It's Raining Men (Popalicious Club Mix) [with Martha Wash]
Cha Cha Bitch (Ralphi Rosario Club) [feat. AB Soto]
Snapshot (Vission & Lorimer Disco-Tech)
Workout (Eric Kupper Dub)
Hit The Floor (Matt Moss Extended Mix)
Looking Good Feeling Gorgeous (High Heel Steppin Mixshow)
Jealous Of My Boogie (Gomi & Rasjek Mix)
Back To My Roots (Jheri Curl Juice Mix)
House Of Love (Eric Kupper 12" Mix)
Don't Go Breaking My Heart (Moroder 12" Mix) [with Elton John]
People Are People (Guiseppe D's NYC Anthem Mix) [feat. Tom Trujillo]
(Visited 1 times, 1 visits today)
Podcast: Download
Listen on: Apple Podcasts | Google Podcasts | Amazon Music | Android | iHeartRadio | Deezer | Donate