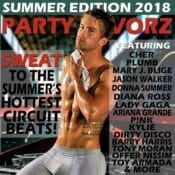 Hot just got hotter with Sweat the annual Summer Edition. This is a monster with the latest and greatest circuit tribal beats and some classic re-works thrown in for good measure.
Whether you're pumping up for your weekend party or heading out to the next circuit festival, the Summer Edition 2018 has you covered.
This set covers all the bases so I'm fairly certain you will want for not.
I just finished the final master for the next Underground House set, which I'm tickled pink over so that WILL be dropping tomorrow. I did say these sets would be coming at you in rapid succession so hold onto your seats…
Until then…ENJOY!
Album: Sweat: Summer Edition 2018
Genre: Circuit, Tribal, House
Year: 2018
Total Time: 02:09:24
U2 – Love Is Bigger Than Anything In It's Way (Offer Nissim Club Remix)
Cher – Fernando (Barry Harris Club Mix)
Sir Ivan – Get Together (Chris Cox Club Mix)
Plumb – Beautifully Broken (Toy Armada & DJ GRIND Club Remix)
Mary J Blige – Only Love (Dirty Disco Private Remix)
Las Bibas From Vizcaya feat. Cdamore – DIVADRAG (Original 2018 Club Mix)
Tony Moran feat. Jason Walker – I'm In Love With You (Rosabel Remix)
Barry Harris – Hi NRG – Take The Ride (Barry Harris Mashup)
BeBe Sweetbriar feat.. Leo Frappier – Cleaning House (Dirty Disco Mainroom Remix)
Sheena Rose – Give It To You (Spin Sista Club Mix)
John Palumbo feat. ONO – Hey, Mr. President (Tony Moran Club Mix)
Donna Summer – I Will Go Without You (thee Werq'n B!tches Mix)
Lady GaGa – Bad Romance 2018 (Bruno Ramos Celebration Remix)
Ariana Grande – No Tears Left To Cry (Stephen Jusko Remix)
P!nk – I Am Here (Edson Pride & Leanh Reconstruction Mix)
DEX EXPERIENCE – Internash (Joe Gauthreaux & Leanh Remix)
Diana Ross – I'm Coming Out-Upside Down 2018 (Dirty Disco Mainroom Remix)
Loren Allred – Never Enough (Tommy Love x Toy Armada Remix)
Cardi B. feat. Bad Bunny & J Balvin – I Like It (Dirty Disco Private Remix)
Kylie – Stop Me From Falling (Toy Armada & DJ GRIND Club Mix)
Imagine Dragons – Whatever It Takes (Jackinsky & Mauro Mauzart Love Loud Mix)
Ariana Grande – God Is A Woman (Leo Blanco Remix)
Matt Consola feat. Brenda Reed – Coming Back (Dirty Disco Mainroom Remix)
(Visited 1 times, 1 visits today)
Podcast: Download
Listen on: Apple Podcasts | Google Podcasts | Amazon Music | Android | iHeartRadio | Deezer | Donate