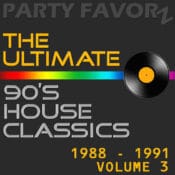 We have reached the end of the Ultimate 90's House Music Classics from 1988 to 1991 and boy oh boy is this one a whopper!
From Marshall Jefferson's epic "Move Your Body," which was a hit in 2020 and Lisa Stansfield's "People Hold On," which is as relevant today as when it was released in 1988 and was turned into a massive #1 club hit 7 years later with the Dirty Scoundrels remix to the epic club classics like Lil' Louis' "French Kiss," whose pulsating synths still hold up today, Ralphi Rosario's 80's underground house smash "You Used To Hold Me," which features the epic monologue takedown by the fabulous Xavier Gold, Crystal Waters "Gypsy Woman," a song that was part of my New York awakening, Shawn Christopher's "Another Sleepless Night," Frankie Knuckles' "The Whistle Song" to crossover one-offs like Betty Boo's "Doin the Do," and Right Said Fred's "I'm Too Sexy" — this set represents the scene in all of it's glory.
The number of classics whether crossover or not included in these first three sets is mindboggling because there are so many that have been tapped, flipped and reserved in today's musical landscape, which is a testimony to the power of the originals.
If you can't tell by now — I light up when writing about classic dance cuts even the Trash Disco series where most songs were before I was even old enough to get into a club until 15 years later. I just live for the history of it all.
You can expect subsequent releases to be staggered out in sets of two years over the course of the next several months. By slowly releasing them, it gives folks the opportunity to appreciate and savor what these sets offer by giving everyone a chance to properly digest them.
IN OTHER NEWS
I finally got a response from Podbean about the upcoming changes that they're pressing forward with regardless of the fact that it's the dumbest business decision ever put forward and is a quick money grab to boost their bottom line (possibly to make them look attractive to potential buyers) I can't say. Look for an urgent message that will be posted across all of our platforms tomorrow on how you can secure your current plan.
In the meantime, I'm wrapping up the next Disco House set for (hopefully Saturday) but no later than Sunday release. Just know that most everything is on track even though there have been some major shifts in the way labels, DJs, and artists are releasing new material. Somehow, I manage to make everything work but putting in that extra effort for your enjoyment.
Until the next time…ENJOY!
Album : The Ultimate 90's House Classics [1988 – 1991] Vol. 3
Genre : 90's Classic House
Year : 2020
Total Time : 4:06:50
1. Marshall Jefferson – Move Your Body (The House Music Anthem)
2. Sterling Void & Paris Brightledge – It's Alright (House Mix)
3. Coldcut feat. Lisa Stansfield – People Hold On (12″ Disco Version)
4. Inner City – Do You Love What You Feel (Magic Juan's Smoking Remix)
5. Victor Romeo – Love Will Find A Way (Club Mix)
6. Ten City – That's The Way Love Is (Deep House Mix)
7. Frankie Knuckles pres. Jamie Principle – Your Love (Original Mix)
8. Kraze – The Party (12″ Mix)
9. Raze – Break 4 Love (English Version)
10. Lonnie Gordon – Gonna Catch You (Hot Tracks Mix)
11. Betty Boo – Doin' The Do (The Good Do-Bee Mix)
12. Right Said Fred – I'm Too Sexy (Betty's Mix)
13. Doug Lazy – Let It Roll (Vocal)
14. Rob Base & DJ E-Z Rock – Get On The Dance Floor (12″ Mix)
15. Adventures Of Stevie V – Dirty Cash (Money Talks) (Sold Out Mix)
16. Lisa Lisa & Cult Jam – Let The Beat Hit 'Em Part 2 (The Paradise Garage Club Mix)
17. Deskee – Let There Be House (Westbam Mix)
18. Black Box – Everybody Everybody (Le Freak Mix)
19. A.S.H.A. – Ball And Chain (J.J. Tribute) (Primitive Mix)
20. 49ers – Touch Me (Sexual Version)
21. Lil' Louis – French Kiss (Original Mix)
22. N-Joi – Anthem (The Original Mix)
23. Black Box – I Don't Know Anybody Else (Steve "Silk" Hurley's Remix)
24. Clubland – Hold On (Tighter To Love) (Hurley's House Mix)
25. Sounds Of Blackness – The Pressure pt. 1 (Frankie Knuckles Classic Mix With Intro)
26. Frankie Knuckles pres. Satoshi Tomiie – Tears (Def Remix)
27. Inner City – Good Life (Magic Juan's Remix)
28. Lisa Stansfield – This Is The Right Time (Shep's Extended Mix)
29. Foreal People – Do You Love What You Feel (Joey Negro Club Mix)
30. Brothers In Rhythm – Peace And Harmony (Italo's Grand Finale)
31. Deee-Lite – Power Of Love (Sampladelic Remix)
32. Ralphi Rosario feat. Xavier Gold – You Used To Hold Me (Original Mix)
33. Alison Limerick – Where Love Lives (Come On In) (Classic Mix)
34. Crystal Waters – Gypsy Woman (She's Homeless) (Basement Boy's Strip To The Bone Mix)
35. Ce Ce Peniston – We Got A Love Thang (Silky Mouse Thang)
36. Clubhouse – Deep In My Heart (American 12″ Mix)
37. 49ers – Don't You Love Me (90's Mix)
38. Clubland feat. Quartz – Let s Get Busy (The G Mix)
39. Louie Vega & Marc Anthony – Ride On The Rhythm (Kenlou Rhythm Mix)
40. Shawn Christopher – Another Sleepless Night (David Morales Classic Mix)
41. Inner City – Ain't Nobody Better (Duane Bradley 'Detroit's Burning' Mix)
42. Joe Smooth – Promised Land (Club Mix)
43. Ten City – Devotion (Original 'Bam Bam's House' 12″ Mix)
44. Frankie Knuckles – The Whistle Song (Original Mix)
(Visited 1 times, 2 visits today)
Podcast: Download
Podcast (preview-channel): Download