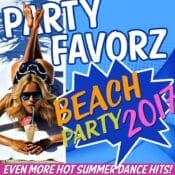 Somehow, some way I managed to pull it off. I've two, count them TWO hot off-the-press sets for you folks this week.
Kicking it off, I bring you Beach Party 2017 volume 2 with smoldering EDM/Dance hits that are currently ripping up the charts and dancefloors across the globe.
Beware, we are in that period where everyone is chasing after the same sound, though I did my best to shake it up a little to keep things as fresh as possible. It's just hard to do considering what I had to work with.
Nevertheless, don't let that scare you away because this set rocks! I've got a lot on my plate this week, including a new Circuit Tribal House set for my boys tomorrow.
Until then…ENJOY!
Album : Beach Party 2017 v2
Genre : EDM, House, Trap, Reggaeton
Year : 2017
Total Time : 01:54:14
EDX – Daybreak (Original)
Hardwell & Austin Mahone – Creatures Of The Night (Charming Horses Extended Remix)
Jaki Nelson – Uh Oh (Kilo Shuhaibar Remix)
Mahkenna – String Around My Heart (Country Club Martini Crew Remix)
Robin Schulz feat. James Blunt – OK (Stadiumx Remix)
Rudimental feat. James Arthur – Sun Comes Up (Coldabank Remix)
DJ Khaled feat. Rihanna & Bryson Tiller – Wild Thoughts (Dave Aude Club Mix)
Jax Jones feat. Demi Lovato & Stefflon Don – Instruction (Club Mix)
Don Diablo – Save A Little Love (Extended Mix)
Major Lazer feat. Camila Cabello, Travis Scott & Quavo – Know No Better (Laibert Remix)
Olav Basoski feat. Spyder – Waterman 2017 (Extended Mix)
Calvin Harris feat. Katy Perry, Pharrell Williams & Big Sean – Feels (Barry Harris Remix)
Emily Perry – Boom (Dave Aude Extended Club Mix)
Shawn Mendes – There's Nothing Holdin Me Back (Dark Intensity Remix)
Martin Garrix & Troye Sivan – There For You (Bali Bandits Remix)
Halsey – Now Or Never (Joe Maz Remix)
Lauryn Hill – That Thing (Barry Harris 2017 Remix)
R5 – If (Country Club Martini Crew Remix)
Avicii feat. Sandro Cavazza – Without You (Aventry Remix)
Jonas Blue & Mark Villa – In Your Arms Tonight (Extended Mix)
Skylar Stecker – I Only Want You (Dave Aude Extended Remix)
Aggro Santos – Bomba (Dave Aude Remix)
Smash Mouth – Walkin On The Sun 2017 (Dave Aude Club)
Zedd & Liam Payne – Get Low (Akkadia Remix)
Post Malone feat. Quavo – Congratulations (Dzeko Remix)
Rita Ora – Your Song (Cahill Club Mix)
P!nk – What About Us (Jezzah Bootleg)
(Visited 1 times, 1 visits today)
Podcast: Download
Listen on: Apple Podcasts | Google Podcasts | Amazon Music | Android | iHeartRadio | Deezer | Donate