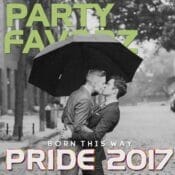 Well, I'm running a bit behind this morning. I went out for my usual morning Starbucks. Once I got back, the sun was shining so bright, I couldn't see the lines on my car screen to back into the garage so I relied on the painted lines to guide me in. Little did I realize that those lines are not lined up properly and I ended up smashing my passenger-side mirror with a built-in camera. It snaps back into place but I can't get the casing on. I'll have to take it in on Monday and no telling what that will cost to get it fixed but I digress because we're continuing our Pride celebration and I'm not gonna let my shit spoil anyone's fun.
Born This Way contains a slew of Gay Pride favorites with a couple of newer versions to keep the set fresh. However, look closely at track number '12'. This ain't the full suite that Barry Harris claimed he'd get around to in an interview long ago but it's pretty damn close. Party Favorz has made no secret about my unabashed love for all things DJ Meme, so much so that I featured him in one of my earliest DJ/Artist Tribute sets, which he thanked me for. He updates Donna Summer's classic MacArthur Park for today's disco-crazed resurgence while managing to keep the original intact (save Heaven Knows, which he edited out). This is truly a stunning update that's bound to tickle the toes of any Donna Summer fan.
While the remaining sets are finished, I tend to go through them one last time before release to ensure quality in all aspects. After all; if this is to be the last gay word for Party Favorz Pride, then I want to leave a lasting impression.
I hope everyone has a fabulous weekend. I've got three more of these coming out next week and then I'll cap it all off with the Gay Anthems for a New Generation 2017, which I just wrapped up yesterday, and boy oh boy is it tasty. You know how I roll around here. I always save the best and most anticipated for last.
Until next time…ENJOY!
Album : Born This Way | Pride 2017 vol. 2




Genre : Circuit House Music




Year : 2017




Total Time : 01:38:35
RuPaul – Supermodel (You Better Work) (Couture Mix)
Lady GaGa – Born This Way (DJ Paulo & Alain Jackinsky Private Mix)
JSTO feat. Alison Jiear – I Just Wanna Dance (Wayne G. Circuit Anthem)
Heather Small – Proud (Illicit Mix)
Celine Dion – My Heart Will Go On (Tony Moran Anthem Mix)
Kylie Minogue – Your Disco Needs You (Almighty Mix)
Kim English – Everyday (Hex Hector & Mac Quayle Club Mix)
Loleatta Holloway – Love Sensation '06 (Freemasons Club Mix)
Vicki Shepard – I Got A Feelin' (Haarmeyer Circuit Anthem Mixshow Edit)
Kristine W – The Boss (Love to Infinity Love In The Club Mix)
Sarah Washington – Heaven (Serial Diva Heavenly Club)
Diana Ross – I'm Coming Out (Almighty 12" Anthem Mix)
Rent – Seasons Of Love (Gomi's Lair Club Mix)
Gloria Gaynor & Antony Fennel – I Will Survive (Antony Fennel Club Mix)
Donna Summer – MacArthur Park (DJ Meme Remix of Epic Proportions)
(Visited 1 times, 1 visits today)
Podcast: Download
Listen on: Apple Podcasts | Google Podcasts | Amazon Music | Android | iHeartRadio | Deezer | Subscribe to Podcast