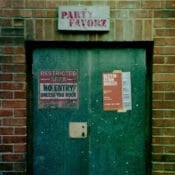 School is out and summer is almost here. I figured it was time to check my white-ass at the door and step into another world to put some funk back in my step. Culminating some of the finest Funk, Soul, R&B, and Disco all under the House music umbrella,…blah, blah, blah.
Site collapsed yesterday; the original post is lost and I'm not re-entering it again; Siteground (my host) sucks my balls; PayPal dropped out as a result; and everything is moving at a snail's pace despite having done NOTHING to my site; zero, zip…NADA. I posted this new set and several hours later everything is offline. When it came back online; everything was jacked up.
I'm working on getting PayPal operational and have submitted my umpteenth request to get my site running at top speed again. I could pay a fraction of the cost to host this site on GoDaddy and not have anywhere near the issues (meaning no calls into support) that I have with Siteground. Every day I wake up and it's something new with these folks.
Billy, if you're reading this; check your email. I sent you something last night that should take care of you for now. Everyone else, don't bother reaching out. I'm going to get this shit fixed and will be incommunicado the rest of the day. Enjoy.
Album : Destination Boogie




Genre : Funky House, Disco, Soul




Year : 2016




Total Time : 01:24:42
DJ Dan & Ido – That Sound (Original Mix)
Alaia & Gallo feat. Kevin Haden – Who Is He (Original)
Alex Kenji feat. Peter Brown – Fire (Disco Mix)
Cid – Together (Extended Mix)
Redondo – Gonna Do (Original Mix)
Sandy Rivera – So Good (Original)
Throttle – Money Maker (Club Mix)
J Paul Getto feat. Kevin McKay – What U Want (J Paul Getto Classic Mix)
X-RAY TED – Too Strong (Original)
Angelo Ferreri – So Hard (Original Mix)
Jack Le Funk – The Disco Ride (Original Mix)
Superlover – The Talking Machine (Original Mix)
Luca Debonaire – Dance! (Club Mix)
Alex Newell with Jess Glynne & DJ Cassidy feat. Niles Rodgers – Kill The Lights (Dimitri From Paris Remix)
Me & My Toothbrush – Get Down, JB! (Original Mix)
Peza – On It (Original)
Ziggy Phunk – Give It to You (Original Mix)
(Visited 1 times, 1 visits today)
Podcast: Download
Listen on: Apple Podcasts | Google Podcasts | Amazon Music | Android | iHeartRadio | Deezer | Donate