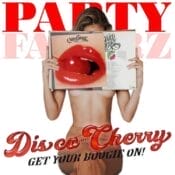 It's Friday, which means it's DISCO time! From Nu Disco and Funk to Soulful, Rap, and Space Disco, Disco Cherry has everything you need to get your boogie on.
I need to make a correction to previous statements over the years (and recently) about "My Imagination" by Ceevox. This is in fact, a remake of the Soul classic "Imagination" by Gladys Knight & the Pips from the early 70's. I'm bringing that up because I mistakingly stated that the recent rework by Dirty Disco and Debby Holiday was a remake of the Ceevox classic when in fact it is not. It wasn't until I was serviced the full set of remixes and heard the original Dirty Disco "classic disco" remix that it dawned on me what the song was. Kudos to Ceevox for totally reworking the track from its original origins and to Debby Holiday for updating the song in its original form as well as the Ceevox version. That's a lot of explaining but it bugs me when I miss something as vital as this. I'm a HUGE early 70's soul fan and why I never put the two together until now is beyond me.
Many of these tracks will sound familiar to you as the artists have lifted beats and sample from works of previous generations but there are several straight up full reworks of the originals. Aside from "Imagination" Barry Harris updates the Cerrone classic "Supernature" in its full 11:30 glory while adding his own special brand to the song. While working on a new Diva Series I stumbled on the updated classic "Heart Of Glass" by Blondie from a few years ago. I have to say, this is hands down the best rework of this song EVER! Unfortunately, it wouldn't work on the forthcoming (cat out of the bag) Debbie Harry + Blondie Diva Hall of Fame set I'm putting together but is perfect here.
I also close the set out with a House update of the classic rock song "Gimme Shelter" by the Rolling Stones. This is one of my all-time favorite songs by one of my all-time favorite bands featuring the blistering backing vocals by Merry Clayton. It was so well done that to leave it off would be a criminal offense if not a felony.
As promised, I've got a slew of new Diva Series for you folks over the upcoming weeks. There are so many that I'll start dropping them on Sunday and release one every other day after that.
It looks like a fantastic spring weekend for us and I hope Disco Cherry puts some light in your life as well. Until the next time…ENJOY!
Album: Disco Cherry
Genre: Nu Disco, Funk, Soulful, Rap, Space Disco
Year: 2018
Total Time: 01:55:25
Mousse T. feat. Taz & Inaya Day – Rock The Mic (Kon Remix)
Dirty Disco feat. Debby Holiday – Imagination (Special 12" Disco Classic Remix)
Kanomarli – Shake A Little Funk (Frank's Structured Approach House Mix)
HP Vince, Dave Leatherman – All Night Long (Nu Disco Mix)
Disco Incorporated – Fire Groove (Original Mix)
Babert – Boogie Oogie (Original Mix)
The Soultrend Orchestra feat. Groovy Sistas – 84 King Street (DJ Meme Back to Paradise Remix)
Purple Disco Machine – Let The Music Play (Original Mix)
Fray Bentos – Body Down (Original Mix)
Re-Tide, Woody Bianchi – Changes (Original Mix)
Brooklyn Express – Change Position (88) (Dr Packer Edit)
ATFC & David Penn – Hipcats (Extended Mix)
Block & Crown, Chris Marina – Risin (Original Mix)
Serge Funk – Can't Get Enough (Original Mix)
Belezamusica – Running Away (Dr Packer Remix)
Dr Packer, Casual Connection – Rollerskating Jam (Disco Rap Mix)
Re-Tide – Piano Lover (Original Mix)
Serge Funk, Micky More, Andy Tee – Runaway (Micky More & Andy Tee Mix)
Cerrone – Supernature (Barry Harris 2018 Monster Mix)
Blondie – Heart Of Glass (Rob Garza Remix)
RS – Give Me Shelter (V's Uncovered Mix)
(Visited 1 times, 1 visits today)
Podcast: Download
Listen on: Apple Podcasts | Google Podcasts | Amazon Music | Android | iHeartRadio | Deezer | Donate