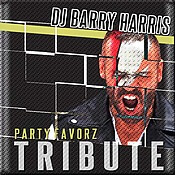 Since the demise of the dynamic duo Thunderpuss in 2003, DJ Barry Harris had been largely absent from the commercial production and remix industry he and Cris Cox helped established, for almost a decade.
In 2014, he emerged and slowly began to re-establish his name with original remixes like ' Party 'Round the Word' by Jason Dottley & Debbie Holiday, classic pop remixes like 'Total Eclipse of the Heart by Bonnie Taylor, and even Thunderpuss re-remixes of massive club hits like 'Stranger in My House' by Tamia. Then he started adding bootleg mashups of current pop hits like 'Sorry' by Justin Bieber coupled with the equally-titled by Madonna, and classic mashups like 'I Feel Love' by Donna Summer coupled with 'My Love Is Your Love' by Whitney Houston.
It wasn't long before the labels caught on and began sanctioning (if not commissioning) his bootleg remixes for their current roster of pop stars like Sia 'Alive', Calvin Harris & Ellie Goulding 'Outside' and Adele's epic 'Hello' creating a remix powerhouse for a new generation of club-goers, effectively showing the current of remixers how it's properly done.
Party Favorz has been at the forefront of proudly featuring DJ Barry Harris' productions and remixes on the site as one of our top go-to DJs of the moment. A moment that lasted much longer than anticipated with his factory-like output matching that of Almighty, 7th Heaven, and, Tiesto. The only difference between these mass-manufactured remixers is that he is his own ghost remixer. How utterly unoriginal that he would lend his name to something he remixes himself [snark].
His ability to resurrect elements of his past work and brilliantly adapt it to current trends in remixes is unsurpassed if not awe-inspiring while his continued output suggests a longevity that's only beginning to scratch the top surface.
It's for these reasons and more, Party Favorz honors DJ Barry Harris with this worthy Tribute set. Here's looking to 2017 and beyond.
Be sure to check out the equally worthy pt. 2 | Red Edition
Album : DJ Barry Harris Tribute | Yellow




Genre : Circuit




Year : 2016




Total Time : 01:27:33
Abigail (feat Toy Armada & DJ GRIND) – Let The Joy Rise (Barry Harris Remix)
Adele – Hello (Barry Harris We Could Have Had It All ReMix)
Bonnie Tyler – Total Eclipse Of The Heart (Barry Harris Xtra Drama Re-Remix)
Sia – Alive (Barry Harris Tribal House Remix)
Taylor Swift – Shake It Off (Barry Harris Tribal House Remix)
Meghan Trainor – No (Barry Harris Remix)
Jesse J with Ariana Grande & Nicki Minaj – Bang Bang (Barry Harris Big Tribal Party Anthem Remix)
Justin Bieber – Sorry (Barry Harris Unapologetic Bitch Remix)
Beyonce – Formation (Barry Harris Remix)
Barry Harris feat. Musique & Salt-N-Pepa – Push (Barry Harris Mix)
Josie Cotton – Johnny R U Queer (Barry Harris Big Room Drama Vocal)
Madonna – Vogue (Barry Harris Rebel Heart Remix)
Ariana Grande – Into You (Barry Harris Remix)
Calvin Harris + Disciples – How Deep Is Your Love (Barry Harris Remix)
Keisza – Hideaway (Barry Harris vs. Antoine Clamaran Dr. Drums 2K14 Mashup)
(Visited 1 times, 1 visits today)
Podcast: Download
Listen on: Apple Podcasts | Google Podcasts | Amazon Music | Android | iHeartRadio | Deezer | Donate