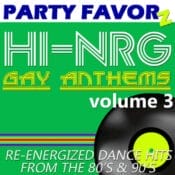 Happy Monday or maybe not. If it's bitterly cold, snowing, or iced-over where you're at never fear as Party Favorz is here to put a little sunshine in your day with Hi-NRG Gay Anthems volume 3!
This set pulls from both decades with a few caveats. The late Viola Wills got started in the clubs in the early 80s with hits like "Gonna Get Along Without You Now" and "If You Could Read My Mind" (a remake of the Gordon Lightfoot #1 early 70s classic) is featured here with her rendition of the 1930's torch classic "Stormy Weather" turning it into a hi-energy floor stomper that pulled all the gay boys to the floor.
As for "If You Could Read My Mind," the dance version initially brought to life for the dance floor by Viola was re-worked by Amber, Jocelyn Enriquez, and Ultra Naté aka Stars On 54 and produced by Hex Hector for the movie Studio 54. I used the version by the fabulous Soraya Vivian who under the Fierce Angel imprint has created some fantastic classic remakes with her soaring vocals.
Nicki French took over for Bonnie Tyler with her rendition of "Total Eclipse of the Heart," which was a massive dance hit in the early 90s and given the Almighty treatment. Equally, Martha Wash re-sung "It's Raining Men" sans the late Izora Rhodes.
Frankly, there are a plethora of 80s dance classics in this set that should be instantly recognizable even to the average listener. However, one song that I have to mention is the feminist anthem "I've Never Been To Me" by Charlene, which was oddly written by two men (go figure). Charlene was the only white artist signed to Motown Records, and the song was initially released in 1977 and 1978 barely cracking the Top 100. It was re-released again in 1982 where it topped at #3 on the charts for several weeks and was the only hit Charlene had recorded but had a lasting impact.
The cheesy song gained popularity again when it was included in the 1994 movie "The Adventures of Priscilla, Queen of the Desert" and has been a drag queen favorite ever since. Charlene re-sung the vocals but used the altered lyrical section of the song (I spent my life exploring the subtle whoring that cost too much to be free) for the dance version.
The truth is, I could go on and on about the origins of various songs and the singers behind them, but my guess is you want to get to the music. In the end, it's all about the memories and lots of fun!
I'll be back on Wednesday to close out this series with volume 4. Until then…ENJOY!
Album: Hi-NRG Gay Anthems volume 3
Genre: Hi-NRG, Dance, Gay Anthems
Year: 2019
Total Time: 02:27:01
1. Nicki French – Total Eclipse Of The Heart (Almighty Mix)
2. Martha Wash – It's Raining Men (Almighty Definitive Mix)
3. Viola Wills – Stormy Weather (Digital Visions Re-Edit)
4. E.G. Daily – Love In The Shadows (Special Remix)
5. Erasure – Chains Of Love (Almighty Definitive Mix)
6. Hazell Dean – Searchin' (I Gotta Find A Man) (Almighty Definitive Mix)
7. Thelma Houston – Don't Leave Me This Way (Almighty Mix)
8. Soulshaker feat. Lorraine Brown – Hypnotic Erotic Games (Soulshaker Club Mix)
9. Candi Staton vs. Soul Revenger – Young Hearts Run Free (Soul Revenger Mix)
10. Erasure – A Little Respect (Wayne G & Andy Allder Hurdy Gurdy Club Mix)
11. Madonna – Into The Groove (Love To Infinity Special Edition Mix)
12. Pat & Mick – Use It Up & Wear It Out '91 (Hot Tracks Mix)
13. Freda Payne – Band Of Gold (Almighty 12" Anthem Mix)
14. Fierce Collective feat. Soraya Vivian – If You Could Read My Mind (Degrees Of Motion Mix)
15. Eye Witness feat. Charlene – I've Never Been To Me (Sophisticatz Funky Remix)
16. Bliss Inc. feat. Carlotta Chadwick – Faith (7th Heaven Remix)
17. Evelyn Thomas – High Energy (Almighty 12" Definitive Mix)
18. Sylvester – Do Ya Wanna Funk? (Razormaid)
19. The 501's – We Are Invincible (Almighty Club Mix)
20. Pamela Stanley – Coming Out Of Hiding (Matt Pop Club Mix)
21. Cher – Believe (Almighty Essential Club Mix)
22. Mary Griffin – Perfect Moment (Almighty Extended Mix)
(Visited 1 times, 1 visits today)
Podcast: Download
Listen on: Apple Podcasts | Google Podcasts | Amazon Music | Android | iHeartRadio | Deezer | Donate