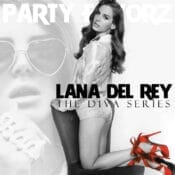 With only three albums under her belt, Lana Del Rey has become what appears to be an overnight sensation but is far from it.  With her deep and alluring vocals and very personal lyrics to her classic beauty, Lana Del Rey (Elizabeth Woolridge Grant) is the antithesis of modern-day feminism because she owns it.  She's speaking from her own life experience and for no one else.
With issues lacking in self-love and importance, her lyrics reflect a hardened bad-girl exterior with an inner insecurity, which leads her to make bad decisions and seek reaffirmation from men who are equally if not more broken.  One of my favorite songs off of her latest album is the title track Ultraviolence.  To be certain, the lyrics are stark, disturbing, and reflect a woman caught in an abusive relationship resembling Stockholm syndrome.  Far from glorifying the abuse, the song gives credence to what we as a society are already aware of but too often fail to intercede.
Perhaps one of the greatest reasons for Lana's massive appeal is the nihilistic lyrics sung in an unforgettable low register are relatable.
At this point, you may be asking yourself "so why are you inducting her into the Diva Hall of Fame?"  Quite simply, her appeal is wider than last year's massive EDM smash Summertime Blues and speaks to a greater audience like no one else currently in popular music.  Her lyrics are often open to interpretation and can take on a different meaning than their actual intent, especially when given a remix treatment in a variety of electronic styles (reflected in this set).
If there is one song that I have a personal affinity for, it's Ride; not for the straight-up interpretation of seeking solace in other people and alcohol while on the road but my attachment as it pertains to my life.  It's also a song I could easily hear Stevie Nicks singing (another personal favorite of mine) and someone Lana has been compared to, amongst others.  Likewise, I could hear Lana delivering her own interpretation of Edge of Seventeen.
It's Lana's style, her poise, her lyrics, and her mesmerizing vocals that qualify her for this honor.  Besides, we gays get a hard-on for Lana every time she puts out something new, and that alone makes her induction all the more pertinent.
Ladies and gentlemen …please welcome Miss Lana Del Ray!
Album : Lana Del Rey | The Diva Series
Genre : Electro, Deep House, Minimal, Dubstep
Year : 2014
Total Time : 01:06:18
1. Born to Die (Gemini Remix)
2. Ride (Photek Remix)
3. Video Games (Club Clique for The Bad Girls Remix)
4. Dark Paradise (Parov Stelar Remix)
5. West Coast (MK Remix)
6. Blue Jeans (Alan Orlando & Osvaldo Shepard Remix)
7. Summertime Sadness (Monsieur Adi Remix)
8. Blue Jeans (Club Clique Nothing Is Real Remix)
9. Blue Velvet (Penguin Prison Remix)
10. National Anthem (WestFunk & Steve Smart Club Mix)
11. Young & Beautiful (Panic City Remix)
12. Ultraviolence (Hook N Sling Remix)
13. Fucked My Way Up To The Top (Yamill Remix)
14. RIDE (Active Child Remix)
15. Once Upon A Dream (Embody Remix)
(Visited 1 times, 1 visits today)
Podcast: Download
Listen on: Apple Podcasts | Google Podcasts | Amazon Music | Android | iHeartRadio | Deezer | Donate