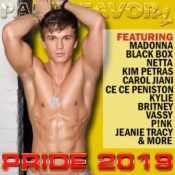 With Gay Days coming up this weekend, it's time for Party Favorz to drop the bomb of all bombs with the queerest of the queer circuit tribal house music sets to kick off Gay Pride month! "I'm talking about bodies movin', non-stop groovin', asses shakin', floors are breakin', queens are freakin', hoes are creepin', divas flowing, everybody knows it's time to stand up and put your hands to the sky!"
I busted my ass off putting these two sets together. Frankly, these were some of the hardest sets to pull off I've encountered in a long time. Dirty Disco and several others are starting to get creative with their breakdowns forcing me to have to think outside the box to make this stuff work. This was an issue I've been dealing with for several years now in the Dance-Club category but now it appears to be showing up in the Circuit Tribal House tracks as well.
One noticeable difference Dirty Disco is taking is that they are bringing back the massive remixes that were the staple of the late 90's going into the early millennium. You'll hear more of this on volume 2. It's a welcome change as it gives these songs more room to breathe with a nice breakdown (sometimes two) to keep things interesting. I am really excited about the direction they've been taking as they've begun to really mix it up.
This set has brand-spanking new mixes from Madonna, Kylie, and P!nk with classic updates by Black Blox (featuring the fabulous Loleatta Holloway), Ce Ce Peniston, Robyn, Britney plus a couple of blazing house and disco numbers to close it out.  If this set doesn't take your breath away then volume 2 certainly will. Both have been road-tested and even I was impressed at how damn good they are.
Because Gay Days is rapidly approaching, I plan on dropping volume 2 tomorrow to give everyone time to download, digest and, workout to many of the songs they'll be dancing to over the celebratory weekend.
Until then…ENJOY!
---
I want to thank everyone that's signed up for the premium content service. Please keep in mind that the $1.49 introductory offer is good through Friday. After that — the price doubles going forward. Anyone that's already signed up is grandfathered in for a year at the introductory price as a way of saying thank you for supporting my efforts. I also want to give a HUGE shoutout to Mike H. for his generous donation and signing up for the new service. Remember, I've re-added the donation button to the sidebar for anyone that feels they want to give up and beyond the monthly subscription.
Album: Pride 2019 vol. 1
Genre: Circuit, Tribal, House
Year: 2019
Total Time: 02:03:44
1. Black Box – Ride OnTime (Guena LG Intro Extended)
2. Elexis Ansley – Light Shower (Tony Moran Extended Remix)
3. Madonna – I Rise (Roberto Ferrari Remix)
4. Yinon Yahel & Mor Avrahami – Love Struck Anthem (Netto Nunes Whistle Mix)
5. Netta – Nana Banana (Roberto Ferrari Remix)
6. Anthony May feat. Shiny & Eleven Paradise – So Strong (Dirty Disco Mainroom Remix)
7. Lauv & Troye Sivan – I'm So Tired (Dirty Disco Mainroom Remix)
8. Kim Petras – Heart To Break (Barry Harris Tribal Remix)
9. Phoenix Lord feat. Carol Jiani – A Deeper Love (Oscar Velazquez Remix)
10. Ce Ce Peniston – Finally (Jesus Montanez Remix)
11. Dario – Shoulda Stayed (Dirty Disco Mainroom Remix)
12. Kylie Minogue – New York City (Dirty Disco Mainroom Remix)
13. Marc Stout feat. Jessica Sutta – Our Song Comes On (Rosario & Ibiza Club Remix)
14. Robyn – Dancing On My Own (House Of Labs & Well Sanchez 2k17 Mix)
15. Madonna feat. Maluma – Medellin (Dario Xavier Club Mix)
16. Britney Spears – Toxic 2K19 (Edson Pride x Y Yahel x M Avrahami Mashup Mix)
17. Rod Carrillo & Terri B! – You Got What I Need (Dan Thomas Alfie Is Up All Night Mix)
18. VASSY – Concrete Heart (Leo Blanco Club Remix)
19. Mousse T vs. Ginuwine – Horny Pony (Barry Harris Remix Mash)
20. P!nk – Walk Me Home (Dirty Disco Mainroom Remix)
21. Rosabel & Jeanie Tracy – We Need Love (Extended Mix)
22. The Shapeshifters feat. Kimberly Davis – Life Is A Dancefloor (Club Mix)
(Visited 1 times, 2 visits today)
Podcast: Download