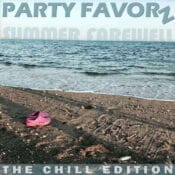 As we near the end of the 2021 summer season, Party Favorz is cooling things down with our latest Chill Out session, Summer Farewell.
This set features a wide variety of laidback styles including Deep House, Electronica, Lounge, NuJazz, Minimal, and Progressive House to help you slow down and prepare for Fall. Granted, the summer weather seems to be lasting longer and longer these days.
In Georgia, we used to get a taste of Fall in late August but for the last several years, the cooling weather doesn't show up until late September or October before jumping right into winter weather. Fall has always been my favorite time of the year but it just keeps getting shorter and shorter.
Take note that I finally used the massive summer sleeper hit "Love Tonight" by Shouse. If you wonder why there are so many different versions of this track out there using the same refrain, it's because of this song — included here — in its original darker Indie groove form with the full vocals. The song itself has taken on a life of its own and will end up being in the Top 10 of the year's best Dance Club songs (likely the Robin Schulz version).
We have two tracks from newcomer Rosko who just happens to be my nephew. Other than he used to DJ parties in college, I'm not sure where this came from because his gig is a graphic design and advertising. I'm excited for him and look forward to hearing more about his work in the future. I might suggest he ad the album to Beatport, Traxsource, JunoDownload, and Amazon Music as well and select tracks on Kings of Spin for greater exposure. He sent me his first album 'Agents of Purity' out now on Spotify and Apple Music. Check out 'Noseslide' below.
[youtube v="EK757-NlI6g"]
With Labor Day weekend around the corner, Summer Farewell will NOT be the final word of the season. I've already got the next T-Dance — the Sunday afternoon pleasure of our gay boys — set in the can that will drop next week. Far be it for Party Favorz to leave y'all on a somber note before heading into the fall. I will say that this set is a ball of energy and lots of fun. Until the next time…ENJOY!
Album : Summer Farewell 2021
Genre : Deep House, Electronica, NuJazz, Minimal, Progressive House
Year : 2021
Total Time : 04:15:44
1. Sauco – Sun Goddess (Original Mix)
2. Andres Llado – Es Murters (Original Mix)
3. Be Svendsen – Nemrut (Extended Mix)
4. Lee Burridge & Lost Desert – Loopyjazz (Original Mix)
5. Sebastien Leger – Feel (Original Mix)
6. Augusto Gagliardi – Rainy Day (Extended Mix)
7. Facundo Mohrr – I Have A Summer In My Eye (Original Mix)
8. Rosko – Soft Detours (Original Mix)
9. Yousef & CamelPhat – April (Original Mix)
10. Da Fresh & Noidor – Mirari (Original Mix)
11. Shouse – Love Tonight (Original Mix)
12. Cassian – Open Up (Durante Remix)
13. Coeo – I Can Never Be Yours (Original Mix)
14. Rosko – Noseslide (Original Mix)
15. Alexander Matchak – Step By Step (Original Mix)
16. Tapesh & Sunday Noise – Pressure (Original Mix)
17. Smok – Dance Tonight (Original Mix)
18. Fabrication – Blue (Original Mix)
19. illo – List (Original Mix)
20. Mika Olson feat. Jermaine Fleur – What I Need (Original Mix)
21. Matt Lange – Rift (Alex ORion Extended Mix)
22. Kryder – Come Home Soon (Extended Mix)
23. Ben Hemsley – Bebe Musica (Extended Mix)
24. Ben Bohmer – Beyond Beliefs (Extended Mix)
25. Boy Next Door – 1980 (D-Formation & GRAZZE Remix)
26. Soulfreq – Patience (MobStudio)
27. Piem & ANNNA – 19 (Josh Butler Extended Remix)
28. Franck Roger – Deeper (Original Mix)
29. The Journey Men – The Power (Original Mix)
30. Alessa Khin – Narasimha (Original Mix)
31. Cristoph, Yotto & Sansa – Out Of Reach (Original Mix)
32. RÜFÜS DU SOL – Alive (Anyma Remix)
33. Saison – Man Of Soul (Original Mix)
34. Dirtytwo – Stay (Original Mix)
35. Scubba & Ivette Moraes – The Sweetest Taboo (Remix)
36. The Disclosure Project – Down Time (Original Mix)
37. Anders Ponsaing & Claus Højensgård – The Man With The Red Face (Original Mix)
38. Sparrow & Barbossa & Francis Coletta feat. Elektrofon – Transat l'antique (Original Mix)
39. Corsica One – Trying (Miguel Migs Salty Love Dub)
40. Miguel Migs feat. Andy Allo – Sensations (Sandy Rivera's Classic Mix)
41. Mike Mac – Put A Spell On You (Nick Hook Remix)
42. Dimmish – Make It Happen (Original Mix)
43. Manoova & Christy – Dissolved Girl (Original Mix)
(Visited 1 times, 1 visits today)
Podcast: Download
Listen on: Apple Podcasts | Google Podcasts | Amazon Music | Android | iHeartRadio | Deezer | Donate