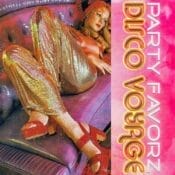 Though it's cold, drizzling, and frankly miserable, HAPPY FRIDAY anyway! Party Favorz is proud to roll-out the latest FunkyDiscoHouseShit to lift your spirits this weekend with Disco Voyagé.
If anyone needs to be lifted up, it sure as shit is me. When I tried to start my car this morning, it was completely dead. It was a complete system gone bonkers as everything came on but the engine wouldn't turn over. The dashboard was lit up like a Christmas tree including battery, oil, and a series of messages including brake malfunction. These newer computerized cars that practically drive themselves, are not all they're cracked up to be.
I realize, this happens to everyday folks all the time, but it just seems with me that it's one thing after another. Sometimes, it feels like I'm cursed and every week brings a new headache.
Nevertheless, that's not your problem. I'm just venting because I can.
I'm currently working on a new set for Underground House, meaning a whole bunch of new Tech-House hits coming your way next week. The week after that, I plan on a birthday surprise for myself (I deserve it) and will be delivering a new Legacy entry for one of my favorite DJ/producers of the moment. He's only been around for several years, but the man is simply burning it up with his modern-day disco-infused remixes.
For now, I'll just leave it at that, because this set is smoking HOT! Even the most dourer of you will be hard-pressed to not wanna get up and dance, once you take this for a spin. I'll be back next week with something new. Until then…ENJOY!
---
I want to give a massive shoutout to Anthony S., Glenn A., Ignacio G., Terry C., Nicholas C., Paul B., Steve N., Daisuke M., Scotty O., and Albert R. for their donations! Party Favorz is truly a global platform as some of these donations came from Japan and Greece. You are much appreciated!
---
This is a known issue with Honda Civics since 2016 and has never been recalled much less fixed. My car is a 2017 with less than 7,000 miles on it. SMDH!
Album: Disco Voyagé
Genre: House Music, Deep House, Soulful, Disco
Year: 2018
Total Time: 01:45:16
Walterino – Disco Voyage (Original Mix)
Purple Disco Machine feat. Baxter – Encore (Mousse T. Remix)
Selace – So Hooked On Your Lovin' (Mousse T.'s Extended Disco Shizzle)
Block & Crown & Scotty Boy – House Gangsters (Original Mix)
Sugar Hill & Natema – Como Va (Original Mix)
Richard Grey – Kant Stop (Original Mix)
Mat.Joe – Disco Ballz (Original Mix)
Agua Sin Gas & Antoine Clamaran – I Say A Bitch (Original Mix)
Dirtydisco feat. Adam Nova – F.U.N.K. (Original Mix)
Random Soul – Together (Jarred Gallo Remix)
DJ Fopp & Daniele Danieli – Do You Feel Alright (Original Mix)
Babert – Keep Moving (Original Mix)
Seamus Haji feat. Mekkah – Race Of Survival (Richard Earnshaw Extended ReVibe)
Solution – Feels So Right (K69 2018 Remix)
David Penn – Nobody (Club Mix)
Sneaky Sound System – Can't Help The Way That I Feel (David Penn Remix)
Fabio Pierucci – U Got The Funk (Drumazone Mix)
Calvin Harris & Sam Smith – Promises (Mousse T.S Extended Disco Shizzle Remix)
Kanomarli – So Happy (Extended Mix)
Lou Rawls – You'll Never Find Another Love Like Mine (Kenny Summit, Frankie Knuckles & Eric Kupper)
(Visited 1 times, 1 visits today)
Podcast: Download
Listen on: Apple Podcasts | Google Podcasts | Amazon Music | Android | iHeartRadio | Deezer | Donate