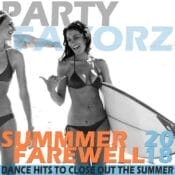 As the nights and mornings begin to cool down in the waning days of summer, there always appears to be a slew of new releases that make us yearn for the lazy days of the season. Summer Farewell pt. 1 captures the essence of the 2018 season with some of the finest dance-club hits receiving a late release.
Party Favorz has collected these outstanding tracks and stitched them all together in one giant non-stop release guaranteed to get you ready for school. In fact, after previewing the entire set, I can honestly say there is only one song I really didn't care for but shall remain unnamed so as not to offend the artist.
We have massive releases from the Chainsmokers, Martin Garrix and Khalid, Post Malone, Kygo and Miguel, Justin Bieber (with guest stars), Marshmello, Calvin Harris and Sam Smith, Tiesto, Seeb, Selena Gomez, Janet Jackson, as well as a bevy of newcomers like the Rua amongst others.
In short, I packed this set in with a variety of EDM, Dance, House, and Tropical to keep it varied.
You may even notice the track "Rise" by Lisette Melendez. Yes, it's the "Together Forever" artist from the 90's who sounds just as fresh today as when she was riding the freestyle trend back in the day. There's even a fantastic EDM remix of the song but I decided to go with the old school remix that frankly deserves a comeback just on the strength of that alone.
Overall, I think you'll want for not and this set should keep listeners busy for a long time as it clocks in at over 2 1/2 hours.
In an effort to complete this Summer Farewell series, I'll be working on a Funky Disco House set shortly and hope to have it out before the upcoming Labor Day holiday weekend coming up.
Until then…ENJOY!
Album: Summer Farewell 2018 pt. 1
Genre: EDM, Dance, Club
Year: 2018
Total Time: 02:28:43
The Chainsmokers feat. Emily Warren – Side Effects (Fedde Le Grand Remix)
Martin Garrix feat. Khalid – Ocean (Vision Remix)
Niiko & Swae feat. Alicia Madison – Flavor (Charming Horses Extended Mix)
Emily Perry – Summer On Lock (Mr. Mig Future House Mix)
Timote & Winick – Don't Walk Away (Original Mix)
Post Malone – Better Now (Jacked Remix)
Jaki Nelson – Dancing With Strangers (StoneBridge & Damien Hall Extended Mix)
P!nk – Secrets (Donny's Mix)
Kygo feat. Miguel – Remind Me To Forget (Dirty Werk Extended Mix)
Justin Bieber, Chance The Rapper, Quavo, DJ Khaled – No Brainer (Barry Harris Club Mix)
Big Pineapple – Another Chance (Don Diablo Extended Edit)
Delegates feat. CiiCii – Nobody Else (Extended Mix)
Lisette Melendez – Rise (TST Red Zone Club Mix)
Mandy Jiroux – Runnin Out Of You (John Christian Remix Extended)
Marshmello x Juicy J feat. James Arthur – You Can Cry (Thrdl!fe Remmix)
Don Diablo feat. Alex Clare – Heaven To Me (Extended Mix)
La Bouche – Night After Night (StoneBridge & Damien Hall Classic Mix)
Keanu Silva – Fine Day (Extended Mix)
Mike Ferullo – Don't Believe Your Eyes (Original Mix)
Bazzi – Mine (Vice Extended Mix)
Axwell _ Ingrosso feat. RØMANS – Dancing Alone (Club Mix)
The Rua – All I Ever Wanted (Dave Aude Extended Mix)
Lizzo – Boyz (Barry Harris Mix)
MAGNUS – Out (Thomas Godel Club Remix)
Janet Jackson & Daddy Yankee – Made For Now (Eric Kupper Extended Mix)
Calvin Harris & Sam Smith – Promises (Lord N' Club Bootleg 6AM Mix)
Weiss – Feel My Needs (Purple Disco Machine Extended Mix)
Galantis feat. Max – Satisfied (Misha K Remix)
Tiesto & Dzeko feat. Preme & Post Malone – Jackie Chan (Extended Mix)
Seeb feat. Dagny – Drink About You (MOTi Extended Remix)
Selena Gomez – Back To You (Riton & Kah-Lo Remix)
Junior J – Back In Your Heart (Extended Mix)
Loud Luxury feat. Brando – Body (Extended Mix)
Zedd & Elley Duhe – Happy Now (Ellis Remix)
Dan + Shay – Tequila (Taylor Kade Remix)
(Visited 1 times, 1 visits today)
Podcast: Download
Listen on: Apple Podcasts | Google Podcasts | Amazon Music | Android | iHeartRadio | Deezer | Donate