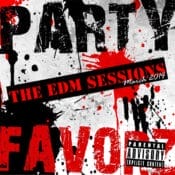 I sat down a couple of days ago and started going through the latest tracks for the next EDM Sessions with low expectations for pulling together some solid tunes.  Much to my surprise, there is a lot of great stuff to finally hit the streets allowing me to slap this puppy together in record time.
I plucked what I liked and then hit the delete button for the rest.  Then I dropped the tunes into my software and presto they all fell together very nicely.
Despite no long versions of Cedric Gervais's remix of Miley Cyrus' "Adore You" nor The ChainSmoker's take on Elle's "Goodness Gracious," the treatments they were given are SO OUTSTANDING, I had to include them in their radio formats.
Overall, this is one solid set that is so worthy, I had to put it out a week earlier than anticipated.
I've already started compiling the 2014 Spring Edition, which will see the light of day later in March but had to push back the BackSpin I had promised last week.  I am also looking at some possible new Diva Series comps but no promises on that just yet.
For now, take on this banger set as it should very well get ya'll through the next 30 days or so.
Until the next time …ENJOY!
Album : The EDM Sessions [March 2014]




Genre : EDM




Year : 2014




Total Time : 1:20:32
1. Miley Cyrus – Adore You (Miley Cyrus vs. Cedric Gervais Radio Edit)
2. Ellie Goulding – Goodness Gracious (The Chainsmokers Remix)
3. Merk & Kremont vs. Toby Green feat. Lenny Kravitz – Are You Gonna Go My Way
4. A Great Big World & Christina Aguilera – Say Something (Marc Stout Big Room Remix)
5. Shakira feat. Rihanna – Can't Remember To Forget You (Fedde Le Grand Remix)
6. Mariah Carey – You're Mine (Jump Smokers Extended)
7. Kylie – Into The Blue (Country Club Martini Crew Remix)
8. Timeflies – All The Way (Chuckie Club Mix)
9. Lady Gaga feat. Christina Aguilera – Do What You Want (Steven Redant Barcelona Club Mix)
10. Zedd feat. Matthew Koma & Miriam Bryant – Find You (Extended Remix)
11. The Crystal Method feat. Dia Frampton – Over it (It's the Kue Remix) (Dirty)
12. Katy Perry – Dark Horse (Dark Intensity & Carlos Mojica Remix)
13. The Chainsmokers – #SELFIE (Club Mix)
14. My Crazy Girlfriend – Go Fuck Yourself (Dave Aude Extended Mix)
15. Britney Spears – Tik Tik Boom (The Thin Red Men Club Mix)
16. Beyonce – Drunk In Love (Dirty Pop Deconstruction)
17. Tiesto – Red Lights (Original Mix)
18. Twenty One Pilots – House Of Gold (Denzel Park Remix)
19. Cyndi Lauper – Time After Time (Nervo Club Remix)
(Visited 1 times, 1 visits today)
Podcast: Download
Listen on: Apple Podcasts | Google Podcasts | Amazon Music | Android | iHeartRadio | Deezer | Donate